TABLEAU Experiential Marketing: Redefining Brand Experiences through Unforgettable Events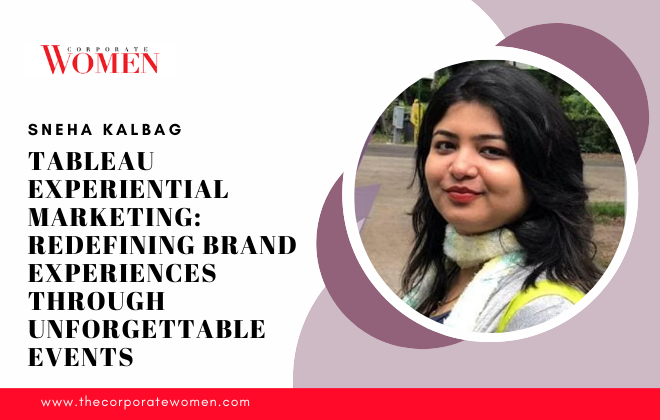 Establishing a brand and forging meaningful connections with customers has always been a challenge, but events have proven to be a timeless solution. Whether targeting consumers or B2B audiences, events offer a unique opportunity to engage stakeholders and create experiences that resonate, fostering a genuine connection between brands and their audiences.
Unlike other advertising channels, events provide authentic engagement and face-to-face interactions with the brand, making them an invaluable tool for effective marketing.
Powerful brands are built through consistent messaging, imagery, and experiences tailored to specific markets. Events have emerged as one of the most potent tools in the event management arsenal, capable of transforming brands and delivering unparalleled recognition and acceptance.
By immersing attendees in a high-touch environment, events enable deep connections between brands, prospects, suppliers, customers, and partners. A well-planned and executed event has the potential to significantly enhance brand value, drive profits, and expand market share by creating a stronger and more meaningful bond between the brand and its audience.
TABLEAU Experiential Marketing: Creating Lasting Impressions
TABLEAU Experiential Marketing is a company at the forefront of the event industry, establishing authority and thought leadership. Founded in December 2014 and headquartered in Mumbai, with a branch office in Bangalore, TABLEAU specialises in creating captivating stages for brands to leave lasting impressions.
With an in-house production facility based in Mumbai, the company has the capability to manage all aspects of event execution, including venue constructs, staging, and decor. TABLEAU has successfully managed major events, such as the MTV Xtreme – Slash feat Myles Kennedy & the Conspirators tour in Mumbai and Bangalore, as well as one of the largest marathons across 15 cities in a single season.
Between January 2018 and March 2019, TABLEAU executed a total of 21 SBI Green marathons. The company's focus lies in delivering tailored concepts and designs that cater to specific target groups, working closely with brands as their dedicated event partners to achieve desired outcomes.
A Comprehensive Range of Event Offerings
Offering a diverse range of event services, TABLEAU specialises in sports events, music concerts, and corporate events such as MICE, dealer events, product launches, press conferences, rewards and recognition programs, and annual days.
Setting TABLEAU Apart: The In-House Production Advantage
What sets TABLEAU apart is its in-house production facility, which enables the company to offer competitive rates compared to other major players in the industry. Led by Sneha Kalbag, the Managing Partner of the company, who hails from Encompass Events, one of the finest event management companies in the country, TABLEAU brings a unique blend of creativity, attention to detail, and quality to its services.
A Clientele of Distinction
TABLEAU has built a reputable clientele that includes ENIL (Radio Mirchi), BCCL (TOI, Mumbai Mirror, NBT), Optimal Media Solutions (OMS), Tata Sky, State Bank of India, HDFC Life, iVolunteers (NGO), and Rentokil PCI, among others.
Major Milestones: Recognitions and Accomplishments
The company has achieved significant milestones within a short span of time. In its first year of operation, TABLEAU won the Best Concert of the Year award at WOW Awards Asia, competing against major event giants like Cineyug and Percept.
Additionally, TABLEAU successfully executed the SBI Green marathon across 15 cities, flawlessly conducting two marathons in one day across two different cities—an exceptional achievement for any event management company.
Insights from Sneha Kalbag: Passion and Hard Work in Event Management
The Business Women magazine recently interviewed Sneha Kalbag, the Managing Partner of TABLEAU Experiential Marketing, providing insights into her career and the establishment of the business venture. Passion and hard work, according to Sneha, are at the core of event management.
While it may appear glamorous from the outside, the industry demands tremendous effort and dedication. Sneha's journey in event management began during her college days, organising cultural festivals and participating in plays and dance programs.
Overcoming initial challenges, Sneha developed strong relationships with clients during her tenure at Geometry Global Encompass and GPJ, which helped her establish her own event company. Building a good portfolio and gaining the trust of new clients became pivotal to her success.
The Ever-Growing Event Industry in India
Reflecting on the event industry in India, Sneha believes that it will always thrive as long as products and services exist. Events continue to play a vital role in reaching out to people and helping brands and companies achieve their objectives.
The industry's growth can be attributed to cutting-edge technology, innovative communication strategies, and the creative expertise of event planners. However, challenges persist, including the need to create compelling ideas, integrate technology into experiences, work within tight budgets, secure partnerships and sponsorships, and meet clients' expectations.
Doing Great Work with Love and Passion
At the heart of TABLEAU's success lies a motivated and happy team, which Sneha believes is the key to any company's achievements. As Steve Jobs once said, "Your work is going to fill a large part of your life, and the only way to be truly satisfied is to do what you believe is great work. And the only way to do great work is to love what you do."