Sandhya Sahni: Pioneering Digitalization in the Financial Sector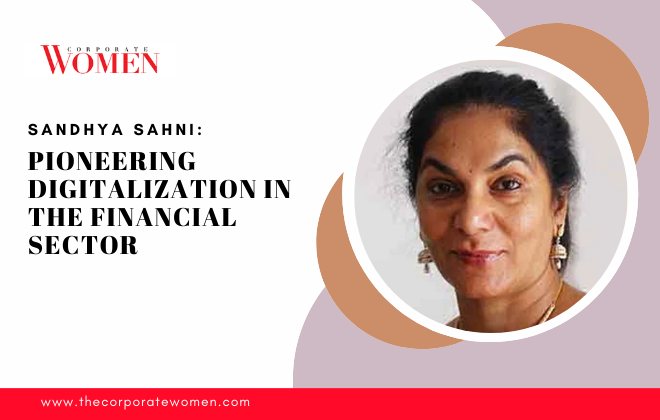 Sandhya Sahni, a seasoned entrepreneur and the Founder & Chairman of Trax eServices Pvt Ltd, has built an empire from a humble sum of Rs. 5000.
Overcoming the challenges faced during her entrepreneurial journey, Sahni has led her founding team to great success, establishing Trax eServices as a top player in the industry. In this exclusive interview, Sahni shares her personal experiences and anecdotes, shedding light on her entrepreneurial path.
An entrepreneurial journey is a continuous process of discovery. What was your vision as a businesswoman? Please share some insights into your story.
Sandhya- I aspired to immerse myself in something groundbreaking, especially within the finance industry, which was not particularly women-friendly at the time. With no one to guide me, I took my own baby steps. At the age of 26, I founded Trax eServices, which has since become a leader in the banking services space.
Recently, we have also ventured into providing e-commerce support services. Our focus has always been on digitalising the banking sector, and we are proud to be at the forefront of this movement. My goal is to take the Digital India initiative to a global level, with plans to expand into Africa, the Middle East, and Southeast Asia, sharing India's remarkable digitalisation achievements with other countries.
Congratulations on surpassing the remarkable milestone of 25 years in your professional journey. In your opinion, what has been your greatest professional achievement to date?
Sandhya- Thank you for your kind words. The most significant professional accomplishment for me was the Pan-India transformation of Trax eServices. In just 18 months, we successfully transitioned from a predominantly physical cheque processing company to a fully digital player in e-cheques and e-payments.
This was a monumental shift for a firm with a 25-year history, but my expert team handled it with utmost professionalism and efficiency. As a result, we have established ourselves as a prominent leader in the e-cheques business.
Provide us with a brief overview of Trax eServices. Did it turn out to be your best decision?
Sandhya- Recognising the potential of Prime Minister Modi's digital push at an early stage, I made the decision to completely revamp Trax eServices. It has undoubtedly been my best decision thus far, as Trax is now a reinvented business that has achieved a 30% increase in revenue compared to a few years ago.
Trax eServices, incorporated in 1991, offers a comprehensive range of financial backend services and solutions, including Cash Management Services, Cheque Processing, Complete Clearing Operations, Loan Application Data Processing, Customer Interaction Services, Account Data Management, Retail Banking, Credit Card Processing, Telecom Clearance – Bar-Code Scanning, Customized Software Development, Data Conversion, Data Processing, Automated Pickup Monitoring with Online Tracking, Human Resources Outsourcing, Telecommunication, E-Commerce Solutions, and much more.
Today, we have an international presence in Dubai, the Middle East, and major cities across India. Over the past two decades, Trax has provided valuable services to major multinational banks, enabling them to focus on their core operations. Continuously growing, Trax plays a pivotal role in the financial landscape, firmly believing in our motto: "Our Services."
Have you encountered failures in your initiatives? What lessons have you learned from these setbacks?
Sandhya- Through intuition and the grace of the Almighty, we have achieved success in most of our strategic and operational initiatives. However, there have been instances where certain process changes did not go according to plan.
During my absence due to health issues, decisions made in my absence adversely affected these initiatives. The key lesson learned was the importance of establishing a layer of senior management to handle day-to-day issues and report them for effective decision-making. This allows me to focus on exploring new markets for business expansion.
Who has been your greatest source of inspiration? What are your guiding principles?
Sandhya- My father has been my greatest source of inspiration. As a senior police officer (DGP), he encouraged me to become an independent woman of substance. His support and influence have shaped both my actions and thoughts.
Empowerment and honesty are the core principles I believe in. I strive to empower my employees, enabling them to deliver their best to our clients. This approach has fostered a motivated workforce dedicated to providing honest work to businesses.
What effective strategies and initiatives have you implemented to achieve success?
Sandhya- Training is a fundamental aspect of our strategy. I firmly believe that all employees have the innate desire to succeed and are willing to make every effort to do so. However, effort alone is insufficient without the necessary knowledge and skill sets.
Therefore, I empower my employees by providing them with training in areas that will enhance their capabilities. Our training programs are conducted in the field, ensuring high productivity and impactful outcomes.
How do you define success? What are your thoughts on achieving long-term success? To whom do you attribute your success?
Sandhya- Success, to me, is measured by its impact on society. I evaluate all actions and achievements based on the positive influence they have on our community. My family, from my parents to my children, has always been incredibly supportive of my work and has been a pillar of strength throughout my journey.
Do you believe your personal life is influenced by your professional life? If so, how?
Sandhya- I believe in maintaining a clear distinction between my professional and personal life. My professional commitments never hinder my family's needs, and vice versa. This balance has allowed me to remain focused in both aspects and achieve success in all areas.
What are your plans for the future of Trax eServices?
Sandhya- We plan to expand into emerging markets on a global scale. We have identified 10-15 countries that are currently at a stage similar to India's banking and e-commerce industry a few years ago. Within the next 18 months, our aim is to establish Trax eServices in these countries, bringing our digitisation expertise to their financial sectors.
In your opinion, what is the biggest challenge facing female leadership?
Sandhya- The biggest challenge lies in people's mindset. Many individuals are not accustomed to perceiving women as leaders. Despite the presence of influential figures such as Indira Gandhi, Angela Merkel, and Indra Nooyi, people still struggle to accept women as leaders, entrepreneurs, and successful business owners.