Medwiz Healthcare Communications: An Initiative of Dr Mamta Jain Revolutionising the Healthcare Industry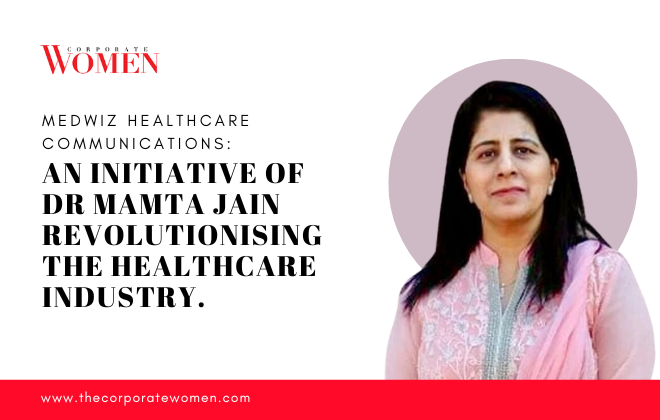 A woman entrepreneur in modern India embodies confidence, ambition, resourcefulness, and a strong sense of social responsibility. With her diverse skill set, she excels in various domains, contributing significantly to the growth and development of the country.
The introduction of social reforms has granted women the freedom they deserve, enabling them to recognise their true potential. As a result, women entrepreneurs are flourishing in all sectors, seizing the abundant business opportunities presented by globalisation.
One exemplary woman entrepreneur is Dr Mamta Jain, who astutely identified a significant gap in the healthcare industry in India—a lack of effective communication among all stakeholders. In response, she founded Medwiz Healthcare Communications Pvt Ltd, a company dedicated to the mission of communicating the science and value of medicines with the utmost accuracy, clarity, and ethical standards on both regional and global levels.
Medwiz offers a comprehensive range of services, including Strategic Communications Planning, Publication Planning and Medical Writing, Meetings Management, Clinical and Scientific Liaison, Market Research and Intelligence, Health Outcomes Analysis, Technological Services, and Educational Materials.
Since its establishment in 2005, Medwiz has earned recognition as a centre of excellence in medical communications. Dr Jain emphasises, "Medwiz Healthcare Communications stands at the forefront of the industry, offering unmatched medico-marketing services from conceptualisation to implementation in both Indian and global markets.
Our strategic alliances with prestigious organisations like Wolters Kluwer, Lippincott Academy of Clinical Excellence (LACE), EBIX USA (A.D.A.M), and numerous Global Centers of Excellence further enhance our position as a leader in the field."
Empowering Healthcare Marketing
While working as a medical practitioner, Dr Mamta Jain noticed the struggle pharmaceutical companies faced in effectively marketing their products. She observed that marketing collaterals often ended up discarded, failing to reach the intended audience. During a sabbatical, her interactions with these companies made her realise the lack of credible marketing solutions for physicians.
Driven by the need to provide unique, value-based services to healthcare professionals, pharmaceutical companies, service providers, and patients, she founded a healthcare communication agency. "This agency aims to meet the industry's needs through scientific expertise, excellent delivery, and dedicated service," explains Dr Mamta Jain.
With unwavering determination and ambition, Dr Mamta built the organisation from the ground up. Today, her commitment to transparency, honesty, and trust empowers her to assist clients on their journey, serving both emerging startups and global giants in India and abroad.
Medwiz's impressive client portfolio includes renowned names such as Abbott, Sun Pharma, Alembic, Alkem, Cipla, Emcure, Bard, Karl Stroz, Lupin, Pfizer, Ranbaxy, Mega Life Sciences, Piramal, Johnson & Johnson, and many others.
When discussing the most effective marketing initiatives employed, Dr Mamta highlights the company's focus on customer satisfaction as the cornerstone of Medwiz's growth. The organisation's constant innovation enables it to adapt to evolving market demands and revamp services in response to changing market scenarios. The quality of their work has consistently earned referrals from satisfied clients, solidifying Medwiz's reputation in the industry.
Overcoming Challenges
Reflecting upon her journey and experiences, Dr Mamta Jain recalls the significant challenges she faced as a newcomer to the industry while starting out, lacking connections and industry knowledge. However, these hurdles served as a catalyst for her personal and professional growth.
Driven by a thirst for knowledge, she eagerly learns from her clients, who share their problems and concerns related to their brands.
This ongoing learning process has been instrumental in shaping her expertise. Today, Medwiz has expanded its operations and presence, with offices in Delhi, Hyderabad, Ahmedabad, and Bangalore, each with a dedicated team representing their respective markets.
Milestones & Recognitions
Throughout the journey, Medwiz Healthcare Communications has achieved remarkable milestones. From pioneering the concept of hands-on workshops and celebrity campaigns to assisting organisations in developing comprehensive guidelines, the company has made significant strides.
The team takes immense pride in their contributions to the development of Traumatic Brain Injury guidelines, a collaborative initiative supported by multiple organisations. 
Dr Mamta Jain takes pride in Medwiz's comprehensive expertise across all aspects of its operations. Rather than relying solely on promotion and marketing, she believes in offering competitively priced, innovative, and valuable solutions that exceed customer expectations.
Driven by a desire to stay ahead of the curve, she draws inspiration from her competitors, constantly striving to improve. Ensuring customer satisfaction is paramount to Dr Jain, and she leaves no stone unturned in ensuring that her team's work consistently meets and exceeds the expectations of their clients.
Future Plans
Medwiz's future plans involve expanding its global presence in Healthcare Communication, Skill Training, Publishing, Digital Marketing, and Clinical Research. The goal is to achieve worldwide recognition for providing exceptional services to clients while narrowing the gap between Pharmaceutical companies, Pharmacists, Physicians, Technology, and Patients through data analytics and ethical practices.
Words of Wisdom
"The entrepreneurial journey is not only financially rewarding but also deeply satisfying as you witness the gradual growth of your ventures. To achieve success, it is crucial to possess an entrepreneurial spirit, have expertise in your domain, and consistently challenge yourself to innovate.
Based on my experiences, I offer three pieces of advice. Firstly, be cautious about sharing your ideas entirely with others, as there is a risk of them being taken and presented as their own.
Secondly, stand firm in your beliefs and never compromise on ethical principles, even when faced with demanding clients. Lastly, always maintain humility and treat everyone with respect, never forgetting the value of every individual's contribution."