Wow Kids: Revolutionising Preschool Education in India and Beyond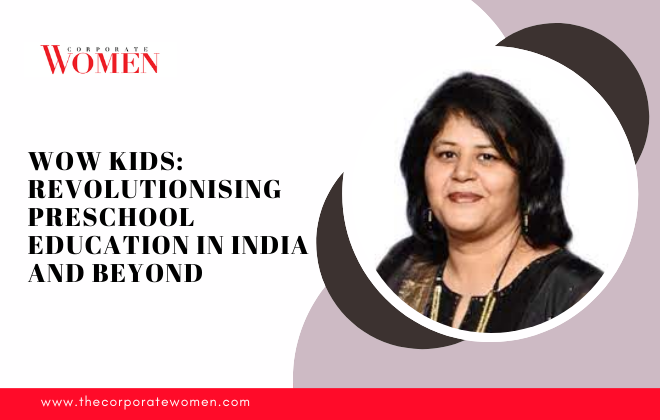 The importance of self-efficacy for action in the entrepreneurial journey is unassailable.  Numerous research carried out worldwide indicate that motherhood and childrearing experiences foster a woman's confidence in general and entrepreneurial self-efficacy in particular.
This has led to the shaping of the belief that motherhood is a step that inspires a woman to push the envelope for creating a venture and running it. Although it is not a new phenomenon, mumpreneurship or female entrepreneurship is now being developed as a concept.
It is defined as "the creation of a new business venture by a woman who identifies as both a mother and a businesswoman, is motivated primarily by achieving work-life balance, and chooses an opportunity linked to the specific experience of having children."Mumpreneurship is categorically recognized as a decisive affirmative action in terms of a woman's identity and dual position in society by entrepreneurial thought leaders worldwide
Preeti Tyagi, a devout entrepreneur and prosperous Mumpreneur, is featured in this issue of The CEO magazine, honouring the achievements of aspiring women business owners.
With the goal of "providing outstanding education capable of exploring the potentials in each child and transforming them into young adults well equipped to face life challenges with confidence," Preeti is the co-founder and director of Wow Kids, an ISO 9001:2000 certified preschool chain founded on an American concept.
The preschool, which serves as a home away from home, offers an experiential learning-based curriculum that heavily emphasises children's total development across all three learning domains (cognitive, affective, and psychomotor).
Preeti has more than ten years of experience as a senior-level industry executive. She held the position of Senior Executive Operations at GE Capital International Services and held a managerial position in the quality department at IBM Global Process Services. She made significant contributions during her time with both of the top organizations, which allowed her to gain a wealth of expertise and knowledge.
In 2013, Preeti and her husband, Atul Tyagi, co-founded Wow Kids. She first handled the administration by herself. In 2016, her husband eventually joined her. Preeti has always been a woman with a strong sense of purpose and an ambitious spirit.
She states, "I always inclined to venture on my own," in an interview with The CEO Magazine. Since childhood, my father and grandfather, two hardworking and prosperous businessmen in the family, have inspired me.
Preeti draws inspiration from the great people in her environment. Her ideals are shaped by their characteristics. Her father's commitment to hard work serves as an inspiration to her. Her husband's demanding dedication to perfection inspires her to carry out every task with integrity and accuracy.
Her experience ultimately sparked her desire to start her own business after becoming a mother. Preeti is a happily married mother of five-year-old twins. She wanted her children to have the best preschool education possible, just like every responsible mother. However, she could not locate any good preschools in Panjim, Goa.
After doing some investigation, she discovered that the less expensive institutions don't offer high-quality education, whereas the pricey schools do. Preeti was determined that she would not compromise her children's schooling.
She was inspired to embark on an entrepreneurial path and found Wow Kids due to the existing quality education gap.  It is the best choice she has ever made, according to her. Preeti says, "I stuck by my decision to enroll my kids in the school of my choice; my option proved to be the greatest one as it sparked many otherwise choices.
I could start something on my own thanks to the decision, which also gave me the confidence to do so. It sparked my sense of entrepreneurial spirit and motivated me to use my knowledge and experience to change the preschool education system in India.
A rising entrepreneur, Preeti also encountered failures as she travelled the road to achievement. But rather than giving up and failing, she saw failure as a catalyst for success. It's beneficial to have failures around, she says. Without failing at something, I think you can never learn or succeed. Failures allow us to gain a deeper understanding of the issue and allow us to try a different strategy for solving it.
Speaking of success, Preeti shares, "It gives us a fantastic sense of achievement that we have been able to satisfy parents; they are happy and delighted with their children's education and their child's advancement.
They suggest other parents for us. Their satisfaction translates into numbers and helps us climb the ladder.  In three years, we increased from two to twelve hundred, and we now have more than forty branches spread throughout twelve states.
We use that as the benchmark for gauging our success. She maintains that to have long-lasting success; one should never be satisfied with their accomplishments. An individual must continue taking risks, facing obstacles, innovating, and striving for perfection.
When asked who she thanks for her success, Preeti responds that her entire staff and everyone connected to Wow Kids has made a considerable contribution to getting the company where it is now. It would be a lie to claim that something was the product of just one person; she continues because success ultimately results from teamwork.
I happily give credit for my achievement to everyone on the Wow Kids team, including our staff, team members, partners, and parents, who supported us from the beginning and helped in our brand establishment.
When asked if her professional life had a beneficial or harmful impact on her personal life, Preeti responds, "Yes, very positively; it has been amazing for me." She spends half of the day working and the other half with her family and children. She appreciates having the freedom to be with her children. She also adores kids and is deeply committed to fostering their growth.
She tells about her future plans at Wow Kids, saying, "We are following a clear roadmap towards achieving growth at Wow Kids and setting up nearly seventy more centres across India. We plan to expand Wow Kids into tier 2, tier 3, and tier 4 cities and rural locations.
Additionally, she is primarily concerned with spreading the preschool's reach into rural areas because those kids are severely lacking in access to high-quality education.
.