Fortune Cookie UX Design: A Venture of Vidhika Rohatgi, Redefining Digital Consulting and UX Design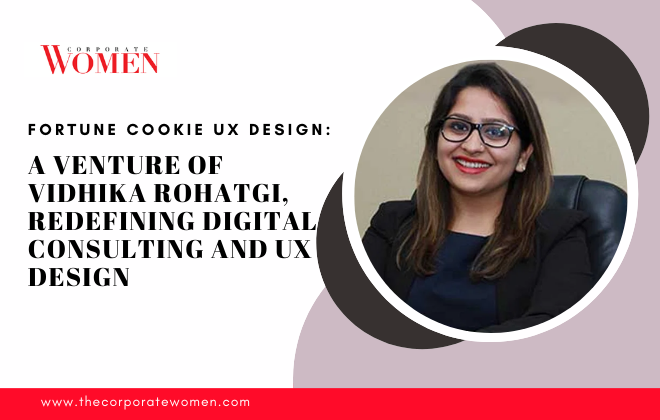 Women worldwide are replacing the "given" world with the one we dream of.  They are creating a new opportunity for themselves and other women and girls by breaking the gender barriers and stereotypes to walk hand in hand with men towards a more wholesome existence.
Due to their drive to succeed in their prior careers, women used to prefer to enter the corporate world in their late 40s. The situation has drastically changed in recent decades, though, as more and more women choose to launch their businesses earlier.
According to experts, women operate 40 to 50 per cent of all small enterprises in emerging nations. The characterisation of women and men's 'natural' traits served as the foundation for Separate Spheres' ideology.
Women were considered morally superior to males but physically weaker, making them more suitable for domestic settings. The fact that women had such significant influence at home was used as an argument against giving them the vote. But the time has seen a massive change in the last few decades, and women now drive the world economy.
The CEO Magazine acknowledges one of the best Indian women entrepreneurs who have played a crucial role in developing Indian businesses. Vidhika Rohatgi, Chief Design Officer at Fortune Cookie UX Design– a leading digital consulting and UX design, has brought an immense change in the design field. Vidhika's experience working in numerous industries leads to a unique value proposition.
She works with organisations such as banks, insurance companies, pharmacies, manufacturing, media houses and more to support them in bringing about digital transformation within their organisations with UX design. She founded an organisation where employees work with companies to conceptualise new digital products, innovate online, and design user-friendly, memorable experiences.
Due to several variables, implementing design and digital solutions in different industries might be difficult; Vidhika has overcome this obstacle by taking a customer-centric strategy rather than the traditional product-centric one. Fortune Cookie UX Design offers specialised, cost-competitive, scalable, and reliable solutions after carefully examining your company's demands, industry, and general requirements.
What was your dream as a business lady?
When I began my work, I frequently heard criticism of user experience design originating from India. And this is in a nation where design and art are fundamental to its rich cultural diversity, from Rangoli to pottery to truck designs.
Although we are talented and skilled, we need more design education and training that is industry-focused. My goal was to establish a UX design firm that would serve as a platform for diverse types of creative talent capable of producing top-notch digital experiences for clients worldwide.
When asked about her most significant professional accomplishment to date, she answered that she has been able to build up one of the biggest UX design teams in the country that includes UX consultants, digital consultants, UX designers and usability experts. She added that today, we are innovators using technology to assist organisations in increasing user engagement, operational efficiency, and organisational productivity. The ability to design with a purpose and an emphasis on problem-solving is what we excel at most.
Have you ever failed in your initiatives? What have you learnt from your failures?
Yes, several times. Nobody ever succeeds as an entrepreneur without making faults. And I think that every setback makes you more intelligent and more robust. Every setback has helped me become a better communicator. As a business owner and a designer at heart, learning how to survive in the profession is more crucial than success.
How many hours a day do you work on average?
I work as many hours as it takes to complete the work. As a young entrepreneur, the hours I put in are directly proportional to the results we achieve.
What is the best decision you've ever made?
The best choice was to pursue a college degree in UX design. Before my exams, I was studying for architecture, but a random encounter led me to learn about UX design. The rest, as they say, is history. I applied to and got through to Symbiosis Institute of Design. I earned my bachelor's degree in communication design with a focus on user experience.
What inspired you to launch a new business endeavour or make significant adjustments to an already-existing company or workplace?
When I first began my career as a UX designer, I learned that the UX design business is highly specialized and demands core competencies. The talent pool for UX Design was likewise relatively small. Additionally, I was aware that UX design would soon become the standard. It makes sense that UX design will advance as more industries and human needs turn to digital solutions. This prompted me to consider starting a specialised UX business that might contribute to this transition.
How do you define success, and What effective strategies have you implemented to achieve success?
Success, in my opinion, is granting yourself the right to fail repeatedly before finally succeeding. Only through persistent commitment, patience, and dedication long-term success can be attained.
I concentrated on assembling the best staff. A company's workforce determines how successful it is. My first and foremost goal with the company was to create a professional, competent, and creatively assured team that could cater to any client.
The design process and practices were my second concern, and I made sure that each designer on the team received training in the Imagin 6D UX methodology framework that we had established. As a result, all projects have received delivery of consistently high quality.
When asked about her future plans, she said that My future goals are to grow the company internationally, which we have already begun with a few important clients in South East Asia, Europe, and North America. I want Fortune Cookie UX design to become a well-known UX & digital consultant worldwide.
How do you balance your personal and professional life and What do you think is the biggest challenge to female leadership?
Being an entrepreneur is like having a full-time job and a child on your hands simultaneously. It requires long hours, frequent travel and complete dedication. There are times when I have to prioritise work over social commitments. However, that is not to say that I let my professional life overshadow my personal life or vice-versa. You simply need to find the right balance for yourself. Prioritising is necessary because you can't have everything at once.
I don't believe there are any new obstacles for women in leadership in our sector. Women in leadership positions are especially welcome in the design profession. The one problem that may always arise is when women lose self-confidence. We limit ourselves by sticking to preconceptions and allowing society to hold us back. Being a leader and an entrepreneur is difficult, but since women are multitaskers, they often make the best business owners. We should support one another and help those that are talented.