Priya Krishnan, The Visionary Behind Klay Prep Schools & Daycare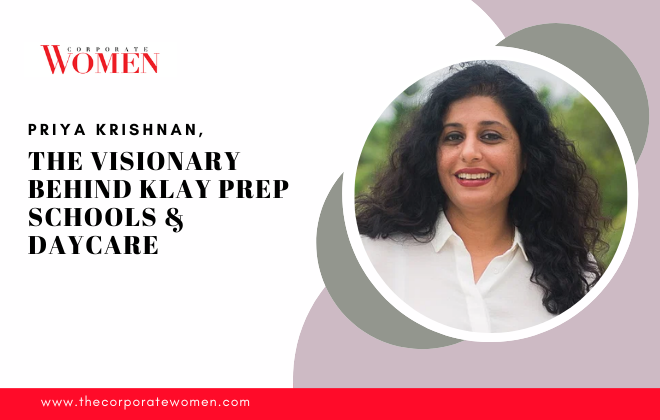 A Journey To Transform Early Childcare and Education
In Indian society, women have historically been perceived as homemakers with little to do with the economy, commerce or a corporate career. But this picture is fast changing. In modern India, more and more women are taking up entrepreneurial initiatives, especially in the early childcare and education domain.
These women are pivotal in laying the foundation for early childhood education and enabling mothers to rejoin the workforce. They are not only highly educated, talented, confident, ambitious and career-oriented but are also as driven and astute as any of their male counterparts. This helps them don multiple hats at home and at work as a mother, wife, daughter-in-law, and business leader. 
Priya Krishnan, Founder & CEO of KLAY Prep Schools and Daycare and TheLittle Company
Priya Krishnan is the Founder and CEO of KLAY Prep Schools and Daycare and TheLittle Company. Priya founded the company in 2011 under the aegis of Founding Years Learning Solutions and has led the team since then.
Priya Krishnan holds a dual MBA, one from London Business School and the other from NMIMS Mumbai. She is also a certified CFA and started his career with Andersen Consulting. Before founding KLAY Schools, Priya held leadership positions in Singapore, New York and London with Mphasis and Bangalore Labs. 
What are your organisation's ideals?
Priya believes that no mother should feel guilty about returning to work under the impression that her child is getting inadequate care or education. With that core idea, KLAY strives to ensure that all children receive the best care in their facilities and receive vital age-appropriate education through their holistic curriculum.
How many hours a day do you work on an average?
As an entrepreneur, Priya's antennas are available 24×7. However, on a typical working day, the office hours are between 9-10 hours daily.
What is the best decision you've ever made?
Taking a leap of faith and starting KLaY is Priya Krishnan's best decision, despite being a mother of two. Her dedication has made the organisation India's most prominent corporate daycare service provider. It provides various maternity and childcare solutions to employers and parents nationwide.  
What stimulated your ideas to start a new business venture or to bring significant changes to an existing business/workplace?
While doing an MBA in London and being a mother simultaneously, Priya Krishnan realised how important an early childcare support system is for a woman to balance her career and home. This sparked her desire to return to India as well as inspired her to set up KLAY and provide a premium childcare support network similar to what she had experienced as a mother in London.
While completing her second MBA, urbanisation in India and the increasing incidence of dual-income families in metros allowed Priya to provide high-quality childcare services in Tier 1 cities across the country.
Being passionate about the concept of "women at work", she saw this model as a great way to provide employment and support women returning to work. With KLAY, being able to help mothers to get back to work and contribute more to their homes is considered the greatest form of satisfaction.
What effective strategies you have implemented/initiatives you have taken to achieve success?
Although the company started with its first centre, Whitefield Bangalore. Their focus was first on building community relationships and providing parents, especially those returning from abroad and the ex-pat community, with a high-quality childcare system that was prevalent in the West but needed to be included in India.
But during these initial stages, Klay Prep School & Daycare quickly realised that the audience was not just ex-pats/parents returning to India but also the local community at large looking for world-class premium childcare service.
How do you define success? What is your take on the ways to achieve long-term success?
According to Priya, success should be measured in terms of financial stability and community impact. Achieving long-term success requires the right team to support your mission and growth more than anything else.
This team should be comprised of positive, impactful and enthusiastic people who understand the value of your product/service and the demands of running a business in a financially prudent manner.
Tell us about your future plans.
Klay Prep Schools & Daycare aims to increase the number of centres to 200 in the coming years, entering new cities and also trying to expand their footprint in Dubai and Singapore in the future.
Whom do you attribute your success to?
Priya Krishnan proudly attributes her success to her family. Her husband, who is also an entrepreneur, and her parents have been instrumental in her professional journey.
Do you think your personal life is affected by your professional life? How?
Being a mother, Priya believes that one should not differentiate between personal and professional life. Both she and her husband take pride in following their respective passions and being able to balance that with being a parent. The important thing is to find solutions to deal with the daily surprises at home or at work and also seek help from your family/network if needed.
What do you think is the biggest challenge to female leadership?
Priya Krishnan thinks that the biggest challenge to women's leadership is the mental mindset of most women in our country themselves. More than men, unfortunately, many women believe that marriage or motherhood is the end of their careers, and that attitude is what needs to be changed in our society.