Rakhi DIY Craft Ideas: Handmade Expressions of Love for Raksha Bandhan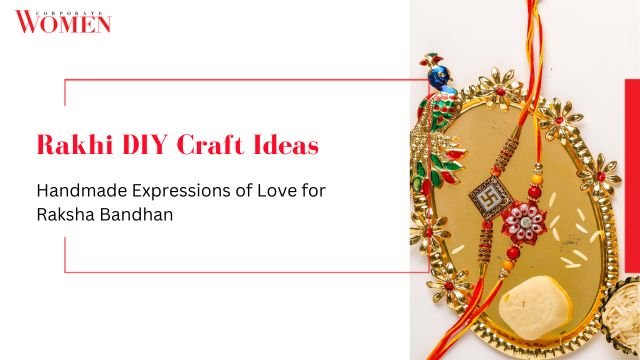 Raksha Bandhan, the cherished Indian festival that celebrates the bond between siblings, is a time for exchanging love, affection, and heartfelt promises. While store-bought rakhis are readily available, there's something extra special about crafting a rakhi with your own hands. Handmade rakhis not only embody the essence of love and care but also showcase your creativity. Here are some delightful DIY craft ideas to create unique rakhis that will make your sibling feel truly cherished in this Raksha Bandhan.
Quirky Quilling Rakhis
Quilling, the art of rolling and shaping strips of paper, can result in intricate and captivating designs. Create beautiful floral patterns, geometric shapes, or personalised initials using colourful quilling paper. Attach these delicate quilled designs to a thread or ribbon to make a stunning and unique rakhi.
Bead and Sequin Magic
Add a touch of sparkle to your rakhi by incorporating beads and sequins. From simple bead strands to elaborate patterns, you can experiment with various colours and sizes to create a design that resonates with your sibling's style. Consider using a mix of beads, sequins, and even tiny bells for an added festive touch.
Felt Fun
Felt is a versatile material that allows you to craft rakhis in various shapes and sizes. Cut out cute animal shapes, flowers, or abstract patterns from colourful felt sheets. You can add depth to your designs by layering different pieces of felt and attaching them to a soft ribbon or thread.
Nature's Charm
Capture the beauty of nature by incorporating elements like dried leaves, flowers, and twigs into your rakhi design. Press and preserve tiny blooms or leaves between transparent sheets and encase them with clear adhesive or tape. This rustic touch will not only make your rakhi unique but also give it a natural charm.
Personalised Photo Rakhis
Turn your rakhi into a cherished memory by adding a personal touch. Print a small photo of you and your sibling, and encase it in a decorative frame or pendant. Attach this to a rakhi thread, and your sibling will have a constant reminder of your bond.
Embroidered Elegance
If you're skilled with a needle and thread, consider creating an embroidered rakhi. Use colourful threads to stitch intricate patterns, names, or symbols onto a piece of fabric. You can then attach the embroidered piece to a ribbon or thread, creating an elegant and unique rakhi.
Button Bonanza
Buttons of different shapes, sizes, and colours can be creatively repurposed to make a delightful rakhi. Arrange them in a visually appealing pattern on a felt or fabric base and attach them securely. This quirky idea adds a playful touch to your rakhi.
Ribbon and Bow Elegance
Combine different types of ribbons and bows to craft a rakhi that's elegant and eye-catching. You can layer ribbons of varying widths and textures to create a visually appealing design. Add a central bow for a charming finishing touch.
Puzzle Piece Connection
For a symbolic rakhi, create one using puzzle pieces. Each piece represents a part of your unique bond. Paint or decorate the pieces before attaching them together with a string, showcasing how your sibling completes your life's puzzle.
Threaded Traditions
Return to the classic by using colourful threads to weave intricate patterns. Whether it's the traditional "Rakhi Lumba" for your sister-in-law or a more intricate design for your brother, this technique carries the essence of the festival beautifully.
Creating your own rakhi not only adds a personal touch to the festival but also lets you express your creativity and love. These DIY craft ideas are bound to create rakhis that are not just threads but intricate expressions of affection that your sibling will cherish forever. This Raksha Bandhan, celebrate the joy of crafting and gifting with handmade rakhis that symbolise the beautiful bond you share.