Jeyalakshmi Venkatanarayanan: Empowering Success with Universe Power Systems and Universe Business Solutions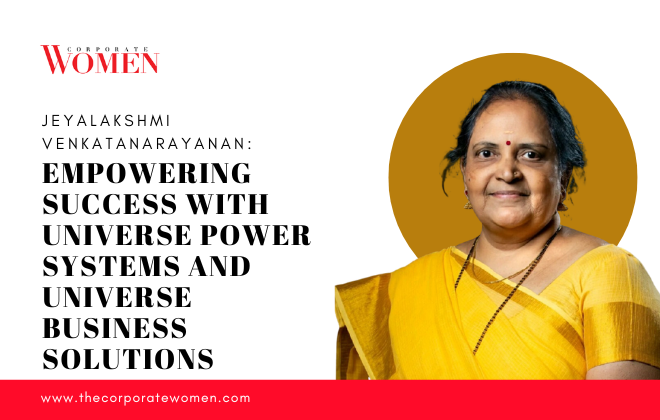 Jeyalakshmi is the founder and proprietor of Universe Power Systems and Universe Business Solutions. With a background in Electronics and Telecommunication Engineering, she is not only a qualified teacher but also an accomplished dance Guru, Choreographer, and Carnatic singer. Jeyalakshmi received management education from ISB, Hyderabad, sponsored by Goldman Sachs.
In 1997, Jeyalakshmi established Universe Power Systems as a business partner of Emerson Network Power (formerly Tata Liebert). Starting with no prior customer base, the company experienced remarkable growth and now serves over 2,000 reputed companies across various sectors such as IT, manufacturing, government and BFSI, healthcare, and educational institutions. Notably, she is the only independent woman business partner for Emerson Network Power in India.
Over the years, Universe Power Systems expanded its offerings from UPS, batteries, stabilisers, and inverters to providing comprehensive power solutions for data centres, home and building automation, precision cooling, and integrated solar power.
In 2016, Jeyalakshmi founded Universe Business Solutions, which provides mentorship for entrepreneurs, assisting them in starting up and scaling their businesses effectively. Additionally, the organisation conducts leadership and management training programs for individuals, groups, and corporate organisations.
Jeyalakshmi's dedication to supporting Indian artists led her to establish Universe Art Foundation (UAF) in 2012. UAF operates as a not-for-profit organisation, focusing on assisting artists facing challenges in areas such as finances, medical support, education, exposure, and accessing larger audiences and forums.
Jeyalakshmi's remarkable achievements in business have been recognised through prestigious awards. In the year 2000, she was honoured with the Rashtriya Rattan Award by the Global Economic Council for her exceptional accomplishments. In 2008, she received the title of 'Powerful Lady' from the popular Kannada daily, Kannada Prabha. Subsequently, a book titled 'Powerful Lady' was released to commemorate her achievements.
Jeyalakshmi had a dream to establish herself as a prominent figure in the predominantly male-dominated power industry and create a business brand that would be synonymous with trust and reliability.
She aspired to break barriers and make a lasting impact in her field, overcoming the challenges and biases that often hindered women in business. Jeyalakshmi was determined to prove her capabilities and show that gender should never be a limitation to success.
Her dream began to take shape as she gained recognition for her accomplishments. Notably, Jeyalakshmi was chosen by Goldman Sachs and the Indian School of Business to be among the 10,000 women entrepreneurs worldwide who were making a significant difference in their respective industries. As part of this program, she had the opportunity to undergo intensive management training at ISB, further enhancing her skills and knowledge.
With her dream and unwavering dedication, Jeyalakshmi aimed to inspire and empower other aspiring women entrepreneurs, proving that with determination and hard work, anything is possible regardless of gender.
A Dedication to Excellence and Service
Jeyalakshmi is a firm believer in the values of discipline and integrity when it comes to pursuing her goals. She places great importance on service, whether it involves catering to the specific needs of her customers or contributing to society through her endeavours like the Universe Art Foundation.
Her dedication is evident in her work ethic, as she typically invests 10-12 hours a day into her business. Furthermore, Jeyalakshmi ensures that she remains accessible to her clients by being available for calls whenever needed.
Empowering Entrepreneurs
Jeyalakshmi considers founding Universe Power Systems as her best professional decision, as it allowed her to utilise her technical background in a challenging and dynamic entrepreneurial setting. While initially running a dance school, she recognised her desire to venture into a field where she could leverage her technical expertise. This realisation led her to establish Universe Power Systems, enabling her to provide end-to-end customised power solutions that addressed the market's specific needs.
As time went on, Jeyalakshmi observed a shift in the market's demand for tailored power solutions. In response, she made the strategic decision to pivot the business model, focusing on designing comprehensive solutions instead of simply selling products from various vendors. This change allowed Universe Power Systems to better cater to the customer's power requirements.
Throughout her entrepreneurial journey, Jeyalakshmi actively engaged as a mentor to numerous entrepreneurs. Her experiences in this role, along with speaking engagements on entrepreneurship, management, and leadership, sparked the idea for Universe Business Solutions.
Recognising a gap in mentoring services for entrepreneurs seeking to elevate their businesses, she founded the organisation to provide guidance and support. Additionally, Jeyalakshmi believed that her entrepreneurial experience could be leveraged to deliver management training to aspiring managers.
Success for Universe
Jeyalakshmi and her team at Universe are driven by a mission to deliver comprehensive green power solutions to customers in diverse industries. Their focus extends beyond the products they offer, prioritising the quality and reliability of their service support system.
With the aim of ensuring maximum uptime, clean power, and an exceptional customer experience, they have achieved success through clear and transparent communication with customers. By being attentive to their unique needs and providing round-the-clock service, Universe has established itself as a trusted provider in the industry.
Jeyalakshmi initially took on large projects without proper assessment, leading to financial losses. However, she learned from this experience and now implements clear financial strategies and timelines for each project.
Jeyalakshmi believes success is finding a personal balance between work and life that brings happiness. She emphasises the importance of consistent effort, a disciplined work ethic, and persistence in the face of failure. Jeyalakshmi also cautions against being consumed by achievements, promoting a holistic approach to success.
Future Plans
Universe Power Systems has achieved significant growth over the past 20 years, serving over 2,000 customers with a wide range of power solutions. Throughout this journey, the company has refined its business ethics, customer approach, internal processes, and solution methodologies.
Looking ahead, Jeyalakshmi envisions expanding the Universe brand by establishing franchises across the country. These franchises will undergo comprehensive training to ensure adherence to the refined processes and guiding principles developed over the company's two-decade tenure.
With the establishment of Universe Business Solutions, Jeyalakshmi has identified an increased demand for leadership and entrepreneurship training. To meet this need, she plans to expand the business by providing personalised mentoring and consulting services to aspiring entrepreneurs, particularly women in non-traditional fields.
Furthermore, Jeyalakshmi aims to collaborate with universities and corporate organisations to conduct training sessions and workshops. The recent success of a series of workshops focused on smart strategies for business expansion has reinforced her determination to expand and enhance these offerings.
Inspirations and Key Factors in Achieving Success
When asked about her greatest inspiration, Jeyalakshmi acknowledges two significant sources of inspiration in her life. Firstly, she credits her father, who triumphed over adversity and poverty to become a successful classical dancer and composer through sheer hard work. Secondly, she draws inspiration from her children, who motivated her to utilise her technical training and embark on the entrepreneurial path.
Regarding the attribution of her success, Jeyalakshmi firmly recognises her own hard work and perseverance as the key factors. She acknowledges that her dedication and unwavering commitment have played a crucial role in her achievements.
Striking a Work-Life Balance
Jeyalakshmi understands the importance of maintaining a work-life balance, despite her busy schedule. She prioritises spending quality time with her family, particularly her two daughters. This balance brings her a sense of overall satisfaction and happiness, recognising that solely prioritising work would leave an important aspect of her life unfulfilled.
When asked about the biggest challenge to female leadership, Jeyalakshmi highlights the struggle to balance work and family responsibilities. However, she believes that this challenge can be overcome by effectively prioritising daily tasks and managing time efficiently. By doing so, women can navigate the demands of both their professional and personal lives.