Apple Watch Series 9: The Epitome of Smartwatch Innovation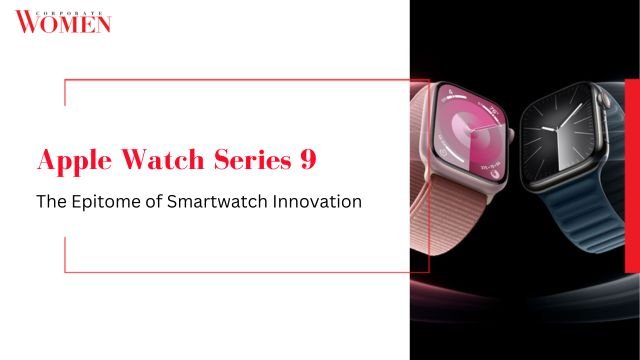 Prepare to embark on a journey into the future of wearable technology with the Apple Watch Series 9. This remarkable smartwatch pushes the boundaries of intelligence, brilliance, and performance to new heights, setting a new standard in the world of wearables. From its cutting-edge technology to its eco-conscious design choices, the Apple Watch Series 9 is poised to redefine your expectations of what a smartwatch can be.
Power and Performance
Starting at a competitive price point of just ₹41,900.00*, the Apple Watch Series 9 is set to hit the market on September 22nd. Customers can choose between two case sizes, 45 mm or 41 mm, and select from options featuring either aluminium or stainless steel cases. Moreover, this watch offers carbon-neutral case and strap combinations, aligning perfectly with Apple's commitment to a greener and more sustainable future.
Vibrant Always-On Retina Display
One of the standout features of the Series 9 is its revolutionary Always-On Retina display, which now boasts double the brightness, reaching an astonishing 2,000 nits. This enhancement ensures that whether you find yourself indoors or outdoors, your display will remain vibrant and legible under all lighting conditions.
The Powerhouse S9 SiP
At the core of the Apple Watch Series 9 lies the formidable S9 SiP (System in Package), marking it as the most powerful chip ever integrated into an Apple Watch. This chip enables lightning-fast performance, guaranteeing a seamless and responsive user experience. It's not just smart; it's extraordinarily powerful.
A Magical Touch-Free Experience
Imagine controlling your Apple Watch without ever touching the screen. The Series 9 introduces an innovative double-tap gesture that ushers in a new era of convenience, making your daily interactions with the watch more intuitive and magical than ever before.
Enhanced On-Device Siri
Siri takes a leap forward on the Series 9, offering quicker and more responsive on-device performance. Whether you require assistance or simply want to converse with your virtual assistant, Siri is primed to serve you with unparalleled efficiency.
Precision Finding for iPhone
The Series 9 enhances your iPhone locating experience with Precision Finding. This feature ensures you'll never misplace your iPhone again, providing an efficient and precise method for locating your device.
Health and Wellness at Your Fingertips
The Apple Watch Series 9 transcends being merely a smartwatch; it evolves into a robust health and wellness companion. It comes equipped with a Blood Oxygen app, an ECG app, and notifications for high and low heart rates. Furthermore, it has the capability to detect irregular heart rhythms and furnish low cardio fitness notifications, helping you maintain a close connection to your overall well-being.
Temperature Sensing
Monitoring your health is now more comprehensive with the addition of temperature sensing. The Series 9 diligently tracks your body temperature, offering valuable insights into your overall health status.
Cycle Tracking with Retrospective Ovulation Estimates
Series 9 presents Cycle Tracking with retrospective ovulation estimates for individuals with menstrual cycles, empowering you to better understand your cycle and fertility windows.
Safety Features You Can Rely On
Safety is paramount, and the Series 9 delivers features such as Emergency SOS and international emergency calling. It also incorporates Fall Detection and Crash Detection, ensuring that your well-being is always the top priority.
Swimproof and GPS
With a water resistance rating of 50 meters, the Series 9 is swimproof and equipped with GPS for precise tracking of your activities. It's the perfect companion for your swimming workouts and outdoor adventures.
Extended Battery Life
Concerned about your watch running out of power? Fear not, as the Series 9 boasts an impressive battery life, offering up to 18 hours of use on a single charge. In Low Power Mode, it can last up to 36 hours, ensuring it remains by your side throughout your busiest days. And when you require a quick boost, fast charging comes to the rescue.
The Apple Watch Series 9 transcends the ordinary smartwatch category; it is a true game-changer. With unmatched power, an array of health and wellness features, and a commitment to environmental responsibility, it is a watch that surpasses expectations.