Apple Watch SE: The Affordable and Feature-Packed Smartwatch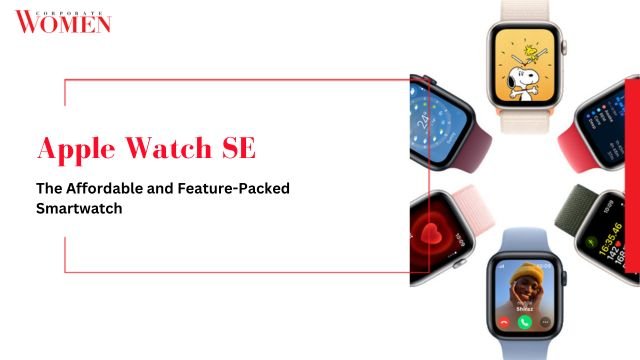 The Apple Watch SE emerges as a game-changer in a world where smartwatches can often come with a hefty price tag. It's a budget-friendly wearable that respects your wallet and delivers many features that make it an impressive choice for the savvy consumer.
Affordability Meets Functionality
When it comes to smartwatches, the Apple Watch SE shines as a beacon of affordability without compromising on functionality. Priced starting at ₹29,900.00*, it packs a punch in terms of features, making it a remarkable value for your money. Whether you opt for the 44 mm or 40 mm aluminium case size, you'll find a smartwatch that suits your style and comfort. The Apple Watch SE is slated to become available on September 22nd, making it accessible to a wide range of users.
Eco-Friendly Choices
Apple has long been a champion of sustainability, and the Apple Watch SE embraces this ethos with its carbon-neutral case and strap combinations. By choosing this watch, you're investing in a quality device and contributing to a greener future. It's a choice that aligns with the growing awareness of environmental responsibility.
Vivid Retina Display
One of the standout features of the Apple Watch SE is its Retina display, boasting up to 1,000 nits of brightness. This means that whether you're checking notifications, tracking your workouts, or just glancing at the time, the display offers crystal-clear visuals that don't falter in bright daylight. The clarity and brightness ensure that you always stay informed and engaged with your watch.
Powered by S8 SiP
Beneath its sleek exterior, the Apple Watch SE is equipped with the S8 SiP, an intelligent system-in-package that ensures seamless performance and operational efficiency. Whether you're navigating apps, utilising Siri, or tracking your fitness progress, you'll experience a responsive and smooth user experience.
Stay Connected and Informed
In a world that thrives on connectivity, the Apple Watch SE has your back. It offers essential features like Siri and Find iPhone, ensuring you're always a voice command away from assistance. Whether you need to ask questions or quickly locate your misplaced phone, your assistant resides conveniently on your wrist.
Monitor Your Health
The Apple Watch SE is more than just a smartwatch; it's a health and wellness companion. It's equipped with features like high and low heart rate notifications, which keep you informed about any unusual heart rate patterns. Additionally, it can detect irregular heart rhythms, alerting you to potential health concerns. It provides low-cardio fitness notifications for those dedicated to their fitness routines, helping you stay on top of your workout progress.
Cycle Tracking for Women's Health
For individuals with menstrual cycles, the Apple Watch SE introduces Cycle Tracking, a valuable feature that helps monitor cycles and predicts fertility windows. It provides insights into overall health and well-being, catering to the diverse needs of its users.
Safety First
Safety is paramount, and the Apple Watch SE acknowledges this with an array of safety features. These include Emergency SOS and international emergency calling, ensuring that help is just a tap away in times of need. Furthermore, the watch offers Fall Detection and Crash Detection, providing you and your loved ones with peace of mind during various activities and situations.
Water Resistant and Swimproof
With a water resistance rating of 50 meters, the Apple Watch SE is more than just water-resistant; it's swimproof. This means you can confidently take it into the pool or open water and precisely track your swim workouts. Whether you're a professional athlete or a casual swimmer, this watch can handle the challenge.
GPS and Cellular Connectivity
The Apple Watch SE offers the flexibility to choose your level of connectivity. With a built-in GPS, you can track your location accurately during activities. Additionally, for those who desire continuous connectivity, it can be upgraded to include cellular connectivity. This means you can stay connected even when your phone is out of reach, ensuring you're always within reach.
Impressive Battery Life
Battery life can be a concern for any smartwatch user. The Apple Watch SE alleviates these worries by providing up to 18 hours of usage on a single charge. Whether you're going through a busy day or embarking on an outdoor adventure, you can trust that your watch will keep up. And if you need extended usage, the Low Power Mode comes to your rescue, further extending the battery life.
The Apple Watch SE is a testament to Apple's commitment to delivering quality and innovation at an affordable price point.