Curious About Launching Your Business?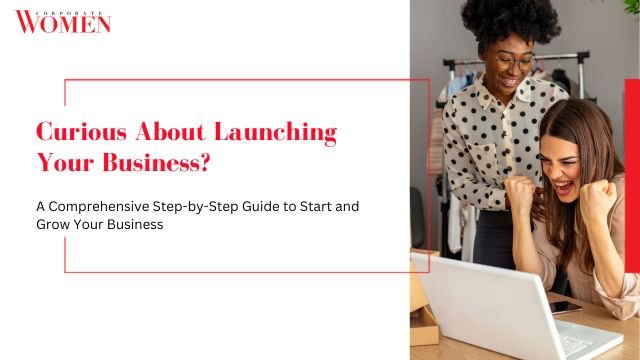 A Comprehensive Step-by-Step Guide to Start and Grow Your Business
Prior to embarking on a business journey, conducting comprehensive market research within your chosen industry and understanding the demographics of your potential female clientele is a crucial aspect of developing a business plan with a women-centric approach. Initiating a business demands meticulous preparation and an awareness that obstacles are inevitable. Your business's triumph hinges upon your adeptness in adapting to evolving circumstances.
In addition to providing products or services, it's vital to establish a women-centric brand and nurture a devoted community of enthusiastic women. This article is tailored for women who aspire to delve into the intricacies of launching a business venture. While commencing a business can present its share of challenges, instead of aimlessly venturing into entrepreneurship, one can follow the proven strategies of accomplished women entrepreneurs. We've compiled a list of essentials required to kickstart your women-centric business.
This 10-step checklist serves as your compass for transforming your visionary ideas into tangible achievements.
How to Start A Business?
1. Work on Your Idea
Before venturing into the world of entrepreneurship, it is crucial to refine and validate your business concept. Begin by conducting thorough market research, identifying your target demographic, and analysing your competitors. By honing your concept, you will gain a clearer understanding of your unique value proposition and how to distinguish yourself in the market.
Understand Your Motivation
Come up with a Business Name
Explore Franchising as an Option
Identify Your Target Customers
To know more about how to work on your business idea to make it a reality, please read…
Do You Have a Business Idea in Mind? Here's a Comprehensive Step-by-Step Guide to Transforming it into Reality
2. Develop a Comprehensive Business Plan
A meticulously crafted business plan acts as a guiding map for your entrepreneurial journey. Within it, delineate your company's mission, vision, and objectives. Provide an in-depth examination of your target market, marketing tactics, financial forecasts, and operational blueprints. A robust business plan not only steers your actions but also entices potential investors and lenders.
Conduct Market Research: Perform thorough market research to identify target customers and competitors.
Consider an Exit Strategy: Determine an exit strategy to enhance company value and preserve relationships, especially in family businesses.
To know more about how to develop a business plan, please read…
What Does a Business Plan Mean? 
3. Financial Assessment
Starting a business necessitates meticulous financial preparation. Begin by evaluating your personal finances to gauge the amount of capital you can either invest or obtain from external sources. Develop a budget encompassing startup expenditures, initial outlays, and sustained operational costs. Furthermore, contemplate seeking guidance from financial experts to ensure your financial choices are in harmony with your business objectives.
Perform a break-even analysis to assess profitability and establish product or service pricing, then analyse the data.
Keep a close watch on your expenses.
Explore funding possibilities, such as business loans, business grants, angel investors, and equity crowdfunding.
Select the most suitable business bank for your needs.
To know more about how to plan your finances while starting a new business, please read
How to Strategize Your Finances When Launching a New Business?
4. Select Your Business's Legal Structure
When choosing a legal structure for your business, opt for the one that aligns with your business type and objectives. Common choices encompass sole proprietorship, partnership, limited liability company (LLC), and corporation. Each structure carries distinct legal and financial considerations, so it's advisable to seek counsel from an attorney or tax advisor to determine the best-fit structure for your business.
To know more about how to choose the correct legal structure for your business, please read…
How to Select the Appropriate Legal Structure for Your Business?
5. Secure Essential Business Licenses and Registrations
To formalise your business as a legal entity, it's imperative to register with the relevant government authorities. Obtain the requisite licenses, permits, and registrations spanning local, state, and federal levels. Additionally, acquire an Employer Identification Number (EIN) from the Internal Revenue Service (IRS) for tax-related matters. Key licenses and registrations to secure include:
Articles of Incorporation and operating agreements
Doing Business As (DBA)
Employer Identification Number (EIN)
Income tax forms
Federal, state, and local licenses and permits
Professional licenses
Seller's Permit
To know more about what are the Necessary Business Licenses and Registrations Required to Operate A Business, please read…
What Licenses and Registrations Must be Obtained to Legally Operate a Business?
6. Ensure Adequate Business Insurance Protection
Prioritise acquiring the appropriate insurance coverage for your business well before its official launch. Being prepared for unforeseen events such as property damage, theft, or customer disputes is paramount, as these incidents can lead to substantial costs. Ensuring comprehensive protection is vital.
While several types of business insurance options exist, certain fundamental policies prove beneficial for most small businesses. If you intend to employ workers, securing workers' compensation and unemployment insurance is imperative.
Furthermore, consider obtaining general liability (GL) insurance or a business owner's policy, which is advisable for the majority of small businesses. GL insurance offers coverage for property damage, bodily injury, and personal injury to you or third parties.
For service-based businesses, the inclusion of professional liability insurance is prudent. This type of coverage safeguards you against errors, omissions, or negligence during business operations.
Remember to tailor your insurance selections based on your location and industry specifics. Depending on these factors, additional types of insurance coverage may be necessary. Consulting with an insurance specialist can aid in determining the most suitable insurance options for your business.
Keep in mind that investing in appropriate insurance coverage not only ensures your business's security but also helps mitigate financial risks associated with unforeseen circumstances.
7. Build a Robust and Unified Team
If you don't plan to run your business solo, it's imperative to recruit and assemble a skilled team to bolster your company's growth. Just as you dedicate effort to perfecting your products or services, prioritising the human element of your business is equally essential.
Recognise that your team members play a pivotal role in shaping your product or service. Begin by identifying your founding team and evaluating any skills gaps that require attention. Clearly outline how and when you intend to address these gaps as a primary focus. Additionally, establish effective collaboration among team members by defining roles and responsibilities, delineating work distribution, creating communication channels for feedback, and implementing efficient methods for remote collaboration when physical presence is not possible.
8. Choose Your Business Partners
Operating a business often necessitates collaborating with dependable third-party vendors who can assist in various facets of your operations. Whether it involves HR services or business phone systems, partnering with the right vendors can elevate your business's efficiency. For instance, a business phone system can optimise customer communication through the implementation of an Interactive Voice Response (IVR) system to direct calls to the appropriate representatives.
When selecting B2B partners, exercise caution and prioritise trustworthiness, as these vendors will have access to critical and potentially sensitive business data. Experts recommend evaluating potential vendors based on their industry experience, track record with clients, and their ability to drive growth for other businesses.
While specific vendor needs may vary according to your business, certain common products and services are essential for most businesses. Consider the following key functions:
Diverse Payment Acceptance
Providing customers with a range of payment options enhances convenience and sales opportunities. Compare credit card processing providers to secure favourable rates and boost revenue potential, particularly beneficial for small businesses seeking to expand their customer base.
Streamlined Customer Payments
Implement a cutting-edge point-of-sale (POS) system to simplify sales transactions. The ideal POS system incorporates advanced payment technology, inventory management features, and customer management capabilities, especially valuable for businesses involved in product sales.
Financial Management
While many entrepreneurs initially handle their own accounting, as your business expands, it's advantageous to hire an accountant or utilise reliable accounting software. This streamlines financial management tasks and frees up time for other critical aspects of your business.
9. Establish Your Brand and Promote Your Business
Building a robust brand identity is essential for attracting customers and distinguishing your business in a competitive landscape. Craft an engaging brand name, logo, and tagline that resonates with your target audience. Establish an online presence through a professional website and harness the power of social media platforms to connect with potential customers. Formulate a comprehensive marketing strategy encompassing both online and offline advertising, content marketing, and public relations efforts.
Key steps for effective business promotion include:
Create a company website.
Leverage social media platforms.
Implement a Customer Relationship Management (CRM) system.
Design a compelling logo.
Maintain up-to-date digital assets.
Develop a well-structured marketing plan.
Craft a strategic marketing campaign.
To know more about how you can establish your brand and promote your new business, please read…
What Strategies Should be Employed to Establish Your Brand and Promote Your New Business?
10. Cultivate Business Growth
Starting your business and achieving initial sales are just the beginning of your entrepreneurial journey. To maintain profitability and flourish, continuous business expansion is vital. This endeavour demands commitment and time investment, but the rewards are substantial.
One effective strategy for fostering growth is collaboration with established brands within your industry. Connect with other companies and propose mutually advantageous arrangements where they promote your products or services in exchange for free samples or trial periods. Another approach involves partnering with charitable organisations and dedicating your resources or products to gain exposure and recognition.
Conclusion
While these tips are invaluable for launching your business and laying the foundation for growth, it's crucial to acknowledge that no plan is infallible. Despite thorough preparation, unexpected challenges will inevitably arise. To run a successful business, adaptability and responsiveness to changing circumstances are paramount.
Answering Common Questions About Starting a Business
How can I start a business with no money?
Begin a service-based business with minimal upfront costs.
Leverage your skills and offer freelance or consulting services.
Collaborate with someone who has the required resources.
Explore crowdfunding platforms to raise funds for your business concept.
Seek out business grants or loans for entrepreneurs.
What are the four basics of a startup business?
A solid business idea or product/service offering.
A well-defined target market and understanding of customer needs.
A viable business plan outlining goals, strategies, and financial projections.
Adequate funding or resources to support business operations and growth.
What is the cheapest, most profitable business to start?
The most affordable and potentially profitable business varies, but options include:
Online consulting or coaching services.
Social media management or digital marketing services.
Dropshipping or e-commerce.
Content creation or blogging.
Home-based catering or baking.
Can I start a startup alone?
Yes, it's possible to start a startup solo, but it can be challenging. Consider building a team with complementary skills to increase your chances of success. Networking and finding co-founders
can be beneficial.
What are the seven steps of a business?
The seven steps of a business are as follows:
Idea generation and market research.
Creating a comprehensive business plan.
Securing financing or funding.
Registering your business and fulfilling legal requirements.
Establishing your physical or online presence.
Launching and promoting your product or service.
Managing operations, tracking performance, and adapting to changes.
How can I start a startup in India?
To start a startup in India, follow the steps mentioned below:
Begin with a well-researched business idea.
Register your business and obtain the necessary licenses and permits.
Secure funding for your startup.
Build a capable team with the right skills.
Develop your product or service.
Launch and market your offering in the Indian market.