"Meri Mati Mera Desh" Independence Day Campaign: Honoring India's Bravehearts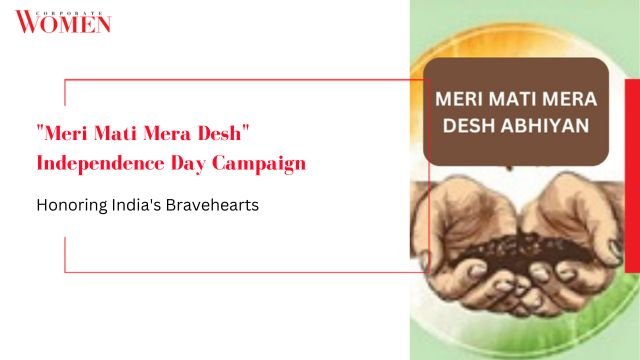 Prime Minister Narendra Modi, in the 103rd edition of "Mann Ki Baat" on July 30 2023, introduced an innovative initiative to commemorate the 77th Independence Day. The "Meri Mati Mera Desh" campaign, launched as part of the Amrit Mahotsav celebration, seeks to pay tribute to and honour the sacrifices of the martyred heroes. This campaign, spanning from August 9, 2023, to August 15, 2023, aims to infuse the true essence of patriotism through the tagline, "Mitti ko naman, veeron ka vandan."
The finale of Azaadi ka Amrit Mahotsav
The 77th Independence Day of India will serve as the culmination of the Azaadi ka Amrit Mahotsav program. Prime Minister Modi's suggestion for the "Meri Maati Mera Desh" campaign resonates with its tagline, signifying reverence for the soil and respect for the Bravehearts. This nationwide campaign, as stated on the campaign website, intends to celebrate the nation's accomplishments and pay tribute to its heroes.
Promoting "Jan Bhagidari" Through Varied Initiatives
This year's campaign emphasises "Jan Bhagidari," or people's participation by organising diverse programs and events at various levels, from villages and Panchayats to Blocks, Urban Local Bodies, States, and the National level. Prime Minister Modi elaborated on the campaign's essence in Episode 103 of Mann Ki Baat, highlighting the numerous programs planned across the nation to commemorate the sacrifices of the martyrs. Unique inscriptions commemorating these luminaries will grace countless village panchayats across the country.
"Amrit Kalash Yatra" – A Symbolic Journey
The centrepiece of the campaign is the "Amrit Kalash Yatra," symbolising unity and respect for the nation's heroes. Soil collected in 7500 urns from every corner of India will converge in Delhi, the capital city. This symbolic journey will be accompanied by saplings representing various regions of the country. The fusion of soil and saplings from these urns will give rise to the "Amrit Vatika," a significant monument near the National War Memorial, embodying the spirit of 'Ek Bharat Shrestha Bharat.'
Events and Activities of the "Meri Mati Mera Desh" Campaign
The campaign is a tribute to India's land and valour, fostering interactions and mutual understanding among people from diverse states and Union Territories. Key events and activities include:
Dedication of Shilaphalakam: Installation of nameplates for brave Veers.
Panch Pran Pledge: A commitment to the nation's principles.
Vasudha Vandan: Creation of the Amrit Vatika with 75 saplings of native trees.
Veeron Ka Vandan: Honoring freedom fighters and brave defenders, along with their families.
National Flag Hoisting and Anthem Singing: Celebrating the national symbols with pride.
Participation and Conclusion
In conclusion, the "Meri Maati Mera Desh" campaign provides a unique and innovative approach to commemorating the 77th anniversary of India's independence. Citizens across the nation can actively participate by contributing soil from their ancestral or historically significant places to the Ministry of Culture. This soil will play a vital role in creating the Amrit Vatika, symbolising the nation's unity and reverence for its heroes.