Revolutionising Industries and Inspiring Innovation: ITC Infotech's DNA of Driving Efficiency and Creating Sustainable Partnerships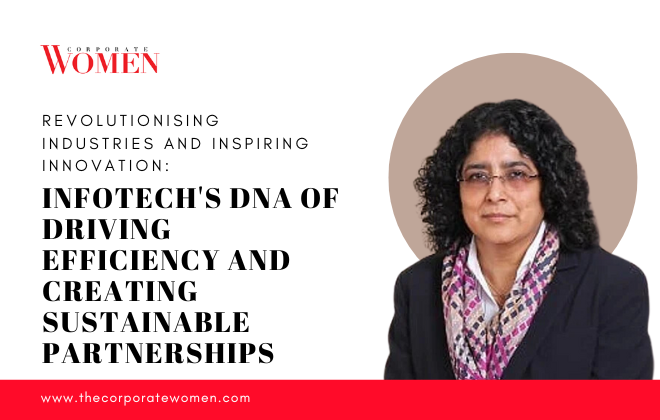 ITC Infotech, led by MD and CEO Sushma Rajagopalan, thrives on its DNA of driving efficiency, enhancing customer experience, and creating sustainable partnerships through technology. As the digital era disrupts established businesses and models, ITC Infotech is poised to capitalise on the evolving dynamics and make a significant contribution to the industry.
Established as a fully-owned subsidiary of ITC Ltd in 2000, ITC Infotech is a specialised global full-service technology solutions provider with expertise in business and technology consulting. The company offers tailored solutions to enterprises in industries such as Consumer Packaged Goods, Retail, Manufacturing, and Hi-Tech, as well as Banking, Financial Services and Insurance, Airline, and Hospitality.
By combining traditional and newer business models, ITC Infotech establishes itself as a long-term sustainable partner for its clients.
With a global presence spanning eighteen countries and ten development centres, ITC Infotech has a proven track record of consistently delivering value. The company's client base includes over 200 global organisations, with an impressive roster of 60+ Fortune-listed clients. This accomplishment speaks to the trust and satisfaction clients have in ITC Infotech's services.
Apart from driving business success, ITC Infotech aims to make a significant contribution to the industry and impact women's leadership and entrepreneurship. The company recognises the evolving nature of the workforce and the need for diverse perspectives in driving innovation and growth.
Empowering Domain and Digital Technology Careers
ITC Infotech believes in nurturing domain and digital technology-rich careers by leveraging the diverse businesses of its parent company, ITC Ltd. The company provides global career opportunities and a wide range of experiences to shape the business and technology leaders of tomorrow.
To ensure continuous growth and development, ITC Infotech offers comprehensive training and re-skilling programs, enhancing the digital readiness quotient of its talented workforce.
With a proven track record, ITC Infotech has established itself as a leader in niche areas and a formidable challenger to global and Tier 1 IT organisations. The company boasts a growing portfolio of specialised solutions that address critical business challenges.
These solutions encompass Industry 4.0 (PLM, IoT, and Embedded), Customer Value Management, Loyalty, Trade Marketing & Distribution, Supply Chain Optimization, Data Engineering and Analytics, Digital Banking, and Digital Agriculture.
At the heart of ITC Infotech's approach is 'Digitaligence@work,' a comprehensive framework that embraces digital disruptions and their immense potential. Digitaligence@work combines technology, domain expertise, data, design, and differentiated delivery to elevate experience and efficiency for clients, enabling them to differentiate and disrupt their respective industries.
Recognised by leading industry bodies, analysts, market research agencies, and media houses worldwide, ITC Infotech's unique value proposition is gaining attention within the industry. In a research report by global technology research and advisory firm ISG, ITC Infotech was acknowledged as a global 'Leader' in 'Enabling Digital' for ADM services.
The company has also received accolades such as the Aecus Innovation Awards 2016 for an innovative customer experience solution provided to Holland & Barrett, the "Best HR Tech Solution of the Year" at the Disruptive Tech & Innovation Awards 2016, and the Asia Pacific HRM Congress Awards 2016. Additionally, ITC Infotech's technologists were recognised as the "European Hackers of the Year 2016" by the Global Sourcing Association.
ITC Infotech's unwavering commitment to talent development, its innovative solutions, and the recognition it receives from industry experts reinforce its position as a leader in the digital technology landscape.
Sushma Rajagopalan: Shaping ITC Infotech's Digital Transformation and Inspiring a Culture of Innovation
Sushma Rajagopalan, the MD and CEO of ITC Infotech, recognises that the IT services industry is undergoing a significant shift, with traditional models being disrupted. Having anticipated these changes, ITC Infotech is in a unique position to capitalise on the evolving dynamics. The company is heavily focused on building capabilities in digital and disruptive technologies, enabling clients to transform in the digital era efficiently.
As the architect of ITC Infotech's overall direction and strategy, Sushma Rajagopalan has created a shared strategic vision for the company. Her leadership is shaping the organisation's future as a digital leader while fostering strong client relationships, creating resources, and nurturing an innovative culture.
With a successful track record of building businesses, Sushma has worked with renowned companies like Citicorp, iGate, L&T Infotech, and digital specialists like Liquidhub.
Approachable and passionate, Sushma brings clarity and confidence to her leadership style. Through her unique "aspire-inspire" approach, she empowers team members to realise their full potential. With a transformational leadership style, Sushma emphasises speed and directness in driving results.
The open, driven, and close-knit community culture at ITC Infotech reflects Sushma's values and strengths. The core culture of the company is guided by creativity, innovation, learning, growth, and integrity.
Sushma Rajagopalan is a prominent figure in the industry and serves on the Executive Council of NASSCOM. She also holds the position of Chairperson of the NASSCOM IT Services Council.
Her achievements include accolades such as "Innovator in Technology Leadership" in 2013 and "Best Technology Woman Leader" in 2011. Sushma holds a BSc from Women's Christian College, an MA in Personnel Management from TISS, and an MBA from Carnegie Mellon University.
As an entrepreneur and transformational leader, Sushma acknowledges that the biggest challenge lies in influencing people's mindsets. She aims to collectively inspire and imbibe a new way of thinking to execute the shared strategic vision.
Passionate about entrepreneurship and fostering an innovation culture, Sushma actively identifies, grooms, and mentors startups in the US and India. Looking ahead, Sushma has ambitious plans on her bucket list.
Over the next 15 years, she aims to make a larger contribution to promoting entrepreneurship in women and advancing leadership skills development and education globally. She is particularly passionate about "Leaders and Teachers without Borders," an initiative aimed at building future leaders and supporting education worldwide.
Currently, her focus is on making ITC Infotech highly relevant to clients, the industry, and its parent company, ITC, in the digital world.
ITC Infotech's Unique Differentiators and Revenue Generation Approach
ITC Infotech stands out in the competitive technology services market by leveraging its unique positioning and strategic advantages. The company has anticipated and embraced the changing dynamics of the IT industry, enabling it to capitalise on emerging opportunities.
One key aspect that sets ITC Infotech apart is its close integration with the parent company, ITC Ltd, which operates in industries such as Consumer Packaged Goods (CPG), Retail, Hospitality, and Manufacturing.
By leveraging the domain expertise and market-leading businesses of ITC Ltd, ITC Infotech is able to develop cutting-edge solutions that address the specific needs of these industries.
This deep domain knowledge combined with the utilisation of digital technologies forms a powerful combination that differentiates ITC Infotech in the market.
ITC Infotech's revenue generation model revolves around offering a rich and differentiated portfolio of solutions and services to its clients. By blending its deep domain knowledge with the latest digital technologies, the company can provide unique value propositions to its customers.
This approach enables ITC Infotech to offer a comprehensive suite of offerings that cater to specific market segments, empowering clients to efficiently transform and thrive in the digital landscape.
Building a Strong Customer Base: A Collaborative Partnership Approach
ITC Infotech has successfully built a strong customer base by prioritising long-term, sustainable partnerships with its clients. The company recognises the value of client relationships and invests significantly in each engagement, taking a collaborative approach.
This commitment to partnership has been highly appreciated by clients, leading to the expansion of ITC Infotech's client base to include some of the world's leading brands and businesses.
To cater to the diverse needs of its clients, ITC Infotech offers tailored delivery models that align with their specific business requirements and processes. This flexibility ensures that each client receives customised solutions that best suit their unique challenges and goals.
A key factor in ITC Infotech's success is its focus on developing deep and differentiated capabilities. By investing in innovation and co-creation, the company helps clients enhance their competitiveness and stay ahead of industry disruptions. This proactive approach allows ITC Infotech to not only address current business problems but also identify and prepare for future challenges.
ITC Infotech remains committed to staying ahead of the curve by investing in emerging technologies. The company actively engages in developmental spending and creates business use cases through accelerated proof of concepts (POCs). By demonstrating the potential of these technologies, ITC Infotech enables clients to leverage them effectively and gain a competitive edge.
Digitaligence@Work: Empowering Businesses for the Future of Disruption and Differentiation
ITC Infotech aims to solve a variety of business problems with its solutions and offerings. The company recognises that technology is rapidly reshaping industries and disrupting traditional business models. In response to this digital transformation, ITC Infotech provides a range of services and solutions under its Digitaligence@work framework to help clients differentiate themselves and drive disruption in their respective industries.
One of the key challenges faced by businesses today is the abundance of data without meaningful insights. ITC Infotech's Digitaligence@work addresses this issue by integrating diverse data sets and applying advanced analytics techniques.
By doing so, they help clients gain actionable insights through diagnostic, predictive, and prescriptive analytics. These insights enable businesses to make informed decisions and improve their operational efficiencies.
Furthermore, ITC Infotech focuses on enhancing user experience, employee experience, and customer experience for its clients. Through their solutions and services, they help design engaging interactions that leverage the insights gained from data analysis. This emphasis on improving experiences contributes to higher customer satisfaction and loyalty, as well as more productive and engaged employees.
In addition to providing these solutions, ITC Infotech has implemented various initiatives to drive digital transformation. Their "Innoruption Lab" serves as a research and development hub for disruptive innovation.
The lab explores emerging technologies such as Digital Supply Chain, Mobility, Internet of Things, AR/VR, BOTS, and Cognitive Automation. Through this lab, ITC Infotech aims to accelerate innovation and deliver proof of concepts that address complex business challenges.
ITC Infotech's flagship annual technology innovation and co-creation platform, iTech, further demonstrates their commitment to addressing clients' problems. The platform brings together emerging and disruptive technologies to develop accelerated solutions.
Additionally, ITC Infotech engages with technology startups through its "Showcase" segment, facilitating connections between innovative startups and business users.
ITC Infotech aims to help its clients thrive in the digital era by providing solutions and offerings that enable differentiation, disruption, enhanced experiences, and the ability to leverage emerging technologies effectively.