Breaking Barriers and Inspiring Excellence: Insights from Koheli Puri, Managing Director of StudioXP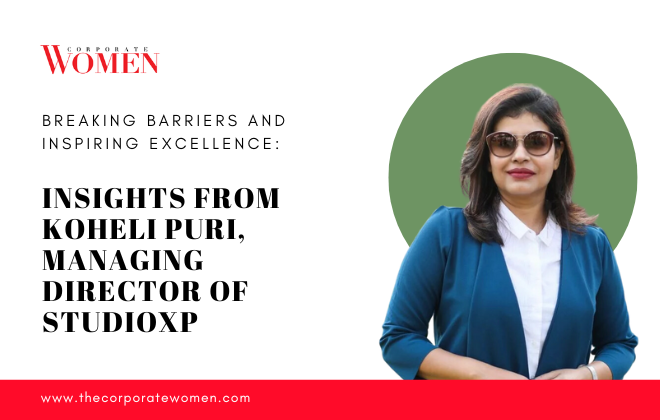 Women across the world are redefining the world we live in, moving beyond the limitations imposed upon them, and working towards a future they envision. They are actively creating opportunities for themselves and their fellow women and girls, challenging preconceived notions of gender roles and collaborating with men to build a more inclusive and fulfilling existence.
In the past, women primarily pursued business careers in their late 40s, driven by their desire for success after dedicating their earlier years to other endeavours. However, the landscape has transformed significantly over the past few decades, witnessing a notable increase in the number of women engaging in early-stage entrepreneurship. Today, experts reveal that women in developing countries are responsible for running 40 to 50 per cent of small businesses.
The outdated concept of "Separate Spheres" relied on defining distinct, supposedly inherent characteristics for women and men. People considered women to be physically weaker but morally superior, which led to the expectation that they were best suited for the domestic sphere.
Their role was not only to counterbalance the moral shortcomings of the public sphere in which their husbands toiled all day but also to prepare the next generation to uphold this way of life. People used to deny women the right to vote, as their significant influence within the home was deemed sufficient.
However, significant changes have unfolded in recent decades, reshaping societal dynamics. Women now play a pivotal role in driving the global economy. Their contributions extend far beyond the domestic sphere, and they are actively participating in various industries, breaking barriers and challenging gender stereotypes. Women are leaders, innovators, and visionaries, and their impact can be felt across all sectors of society.
The empowerment of women has opened new doors for progress, fostering equality, diversity, and a more balanced society. With their increasing representation in entrepreneurship and leadership positions, women are reshaping the world by bringing fresh perspectives, nurturing collaboration, and championing social change.
The transformative efforts of women are not only benefiting themselves but also inspiring future generations to dream bigger and pursue their aspirations without limitations.
Koheli Puri: Transforming the Architectural and Project Management Landscape
Koheli Puri, the Managing Director of StudioXP, has emerged as a prominent figure in the Indian economy, gaining recognition from The CEO Magazine. Her significant contributions in the fields of Architectural and Project Management have brought about a remarkable transformation.
With a wealth of experience in the industry, Koheli has established StudioXP as a collective of talented Architects and Project Management professionals. The company offers comprehensive solutions to clients looking to establish their corporate offices across India, providing ready-to-move-in conditions.
The realm of architectural and project management solutions presents various challenges, necessitating a unique approach. Koheli's expertise lies in adopting a customer-centric strategy rather than a traditional product-centric approach.
By thoroughly analysing the specific needs and requirements of businesses across industries, StudioXP delivers customised, cost-effective, scalable, and robust solutions. Koheli, who holds a Post-Graduate degree in Construction Management from IIT Delhi, brings a rich experience of eighteen years to the table.
She possesses exceptional skills in Project Budgeting, Contract Administration and Management, Project Scheduling, and Budget and Quality Control, which she has successfully employed in diverse projects within the Commercial, Hospitality, Educational, and SEZ sectors.
Additionally, she excels in Business Development, Project Strategy Formulation, Project Planning, Management, and Implementation, as well as conducting research and feasibility studies in the real estate domain.
Before her role as the Managing Director of StudioXP, Koheli Puri served as the Operation Head for North India in the Project Management Division of Jones Lang Lasalle India. She has also contributed her expertise to a renowned development firm, overseeing the management and delivery of large-scale Commercial Developments.
Building a Visionary Space at StudioXP
Koheli Puri, a successful businesswoman, has a multifaceted dream for her company, StudioXP. While growth and reputation are important, her vision extends beyond conventional success. Koheli aspires to carve out a unique space in the industry where StudioXP's creations are not only functional and visually appealing but also evoke a sense of warmth and inspire repeat visits.
She also emphasises the importance of fostering a process-driven and ethical environment within her team, where precision and integrity are upheld. Koheli recognises that her team is instrumental in fulfilling her dreams, and she is committed to providing them with the ideal working environment and resources to unleash their full potential.
"Failures are the best teachers in our lives"- Koheli Puri.
Koheli shares, "Failures have been invaluable lessons in my journey. They have taught me about the path to success. While there were moments when things didn't go as planned, we persevered and eventually achieved our goals, surpassing those challenges with flying colours.
Being among the top 25 female professionals in your esteemed magazine is my greatest achievement. It's a testament to the journey I've embarked on with dedication and perseverance."
Koheli Puri holds stringent ideals that revolve around perfection and an organised approach. She believes in executing tasks with precision and meticulous planning while also emphasising the importance of displaying humanity and compassion in all endeavours.
Koheli's ideas for starting a new business venture or bringing significant changes to an existing business or workplace were stimulated by her prior experiences. During her seven-year tenure with a top multinational corporation, she learned about processes and systems, gaining valuable insights.
Working with a reputed developer group further shaped her mindset, instilling a strong sense of accountability, a passion for excellence, and a penchant for out-of-the-box thinking.
When Koheli embarked on her entrepreneurial journey, she combined the best elements from both experiences. Her primary focus was on creating the right environment, where the well-being of her team and adhering to commitments take precedence. 
Strategies for Success and the Pursuit of Excellence
Koheli Puri shares insights into the effective strategies and initiatives she has implemented to achieve success. One of their key strategies is focusing on repeat business, which currently accounts for 70% of their operations.
Koheli attributes this achievement to the discipline and work ethics upheld within the company, emphasising that repeat business reflects the credibility of the company. She outlines her 5-point agenda, which includes delivering a better quality product, building trust, reducing waste and defects, maximising value, and increasing user satisfaction.
Koheli believes that success is the driving force that propels individuals to strive for excellence, creating a rush of adrenaline and motivation. The fulfilment of accomplishing a goal, nurtured from its inception, is an indescribable feeling of success. According to her, long-term success requires motivation, proper orientation, and a never-give-up attitude in all aspects of life.
Future Plans
In the future, Koheli Puri aspires to venture into bigger development projects. With a strong project delivery team in place, she envisions taking a significant leap forward by undertaking larger-scale developments.
Her focus lies in ensuring timely delivery, honouring commitments, and building trust. Koheli aims to alleviate the challenges faced by common people due to false promises and a lack of trust in the industry.
Inspiration, Teamwork and Dedication
Identifying her father as her greatest inspiration, Koheli Puri attributes her career path as an architect with a construction management degree to his guidance. Since her early years in school, he instilled in her the belief that she was destined to have her own firm dedicated to building creative excellence and making a difference in the industry through timeless designs and commitment.
When it comes to her success, Koheli acknowledges the pivotal role played by her team. She credits the design team for their creativity and their ability to produce young and fresh designs. Additionally, she highlights the hard work of her project delivery team, whose dedication is indispensable to achieving success.
Koheli also expresses deep gratitude to Mr Jitendra Puri, the second director of the firm, emphasising his boundless dedication. She acknowledges his role in ensuring that all commitments to clients are fulfilled and that they become integral parts of the firm, entrusting StudioXP with more challenging opportunities.