Diving Deep into India's Top Sports Magazines: Unveiling the Realm of Sporting Insights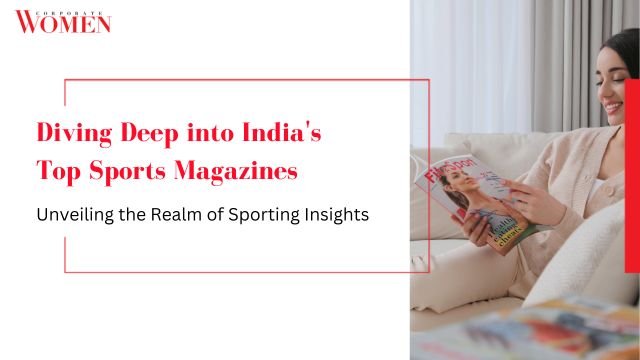 We present the ultimate destination for ardent sports enthusiasts who thrive on being in the know about the latest developments in the sports universe. In this comprehensive exploration, we embark on a journey to delve into the realm of India's top 10 sports magazines. These magazines are the primary gateway to staying updated with the freshest insights, speculations, and happenings in the ever-dynamic sports industry.
A Glimpse into the Sporting Universe
Magazines have been an integral part of human communication since the 17th century. Covering domains as diverse as financial markets and fashion trends, magazines have encapsulated various aspects of life within their pages. Within this spectrum, sports magazines carved their niche, with the USA witnessing the birth of the first sports magazine in 1886. Over time, these publications have evolved into a powerful form of mass media, amassing unparalleled popularity.
In today's contemporary landscape, a plethora of sports magazines circulate globally. In this exploration, our journey unfolds as we uncover the leading sports magazines that captivate Indian readers. These publications traverse a broad spectrum of sports, encompassing cricket, golf, football, tennis, the Olympics, hockey, health and fitness, sports events, and much more.
Without further ado, let's dive headfirst into this compilation of premier sports magazines that have captured the hearts of enthusiasts!
Cricket Today: The Quintessential Cricket Companion
As one of India's premier sports magazines, Cricket Today is a monthly publication tailored exclusively for cricket enthusiasts. True to its name, this English-language magazine immerses readers in cricket. It offers real-time updates on matches played both within India and around the globe. With its unique historical insights into the sport and its players, Cricket Today keeps its readers engaged and well-informed.
Sportstar: Chronicles of Sporting Excellence
Since its inception in 1978, Sportstar has transcended international boundaries as a comprehensive sports magazine. Covering an array of sports, including the Olympics, FIFA, UEFA Euro, cricket, and the World Cup, Sportstar shines as a versatile gem. It delves into global as well as Indian sports, spanning cricket, football, Formula One Grand Prix, and tennis, solidifying its position as a dynamic player in the realm of sports journalism.
Tennis: Navigating the Tennis Landscape
Emerging from the United States in August 1954, Tennis magazine is a dedicated platform for tennis enthusiasts. With eight issues annually, this publication comprehensively covers the latest news and updates from tennis tournaments worldwide. Backed by its authoritative stance on the sport, Tennis delves into expert tips, equipment reviews, and a holistic perspective of the tennis world.
Golf Digest India: Spotlight on Golf
Founded in 1950 in the United States, Golf Digest India is a monthly magazine that profoundly impacted Indian sports journalism. Exclusively dedicated to golf, it encompasses national tournaments, international events, and everything. With a charismatic Editor-in-Chief, Ravi Narian, an Asian Games gold medalist, the magazine adds a personal touch to the world of golf.
SportsBusiness: Unveiling the Business of Sports
Catering exclusively to the realm of sports business, SportsBusiness serves as an essential business-to-business magazine. It unravels the intricate layers of the sports business landscape, catering to sports organisations and entities while offering valuable insights for stakeholders within the sports industry.
ESPN the Magazine: A Unique Biweekly Perspective
A stalwart in US sports journalism, ESPN The Magazine stands out with its lighthearted and humorous approach to significant sports news. Since its inception in 1998, this biweekly publication has captivated readers with its NHL, MLB, NFL, and more coverage. It also highlights emerging young athletes through the NEXT Athlete Award.
La Polo International: Elevating the Sport of Kings
Embarking on a distinctive journey, La Polo International pioneered Polo-focused magazines. This publication delves deep into the world of Polo, covering tournaments, players, and the regal lifestyle associated with the sport.
Slam: A Slam Dunk for Basketball Enthusiasts
Originating in the United States in 1994, Slam Magazine caters to the basketball community. This vibrant publication captures the essence of basketball through captivating imagery, heartwarming stories, and articles that celebrate the sport and its players.
Runner's World: A Marathon of Insightful Coverage
With global recognition, Runner's World dedicates its pages to the world of running. This publication goes beyond technique, encompassing health, fitness, and inspiring narratives from the running community.
World Soccer: The Ultimate Soccer Companion
Last but certainly not least, World Soccer Magazine takes soccer enthusiasts on a riveting journey through the exhilarating world of soccer. This publication delves into a range of soccer tournaments, both domestic and international, while also providing authoritative insights from key figures in the sport.
Conclusion
These top 10 sports magazines stand as a formidable arsenal for every sports lover, offering a treasure trove of insights, updates, and stories from the ever-evolving realm of sports. Encompassing a wide array of sporting passions, these magazines cater to enthusiasts, players, and stakeholders alike. So, whether your passion lies in cricket, golf, basketball, or running, a magazine is ready to ignite your fervour for the captivating world of sports.