Navratri 2023 Fashion Trends: Embracing Tradition with a Modern Twist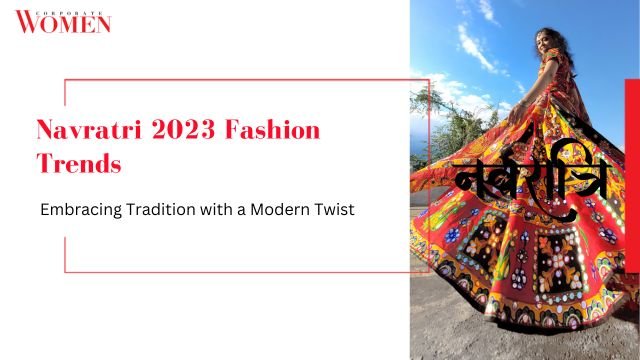 Navratri, the nine-night festival celebrating divine feminine energy, is not only a spiritual occasion but also a time to showcase your style and fashion. As Navratri 2023 approaches, it's time to explore the latest fashion trends that blend tradition with modernity. This festive season, immerse yourself in the vibrant world of Navratri fashion, where ancient customs meet contemporary flair. In this article, we will delve into the Navratri fashion trends for 2023 that will help you make a statement while honouring the cultural heritage.
Color Palette: Vibrant and Bold
Navratri is all about celebrating with colour, and 2023 is no different. Embrace vibrant and bold colours such as royal blue, deep red, emerald green, and sunshine yellow. Incorporate these shades into your outfits to stand out during the Garba and Dandiya dances.
Traditional Silhouettes with a Modern Twist
Traditional chaniya cholis and lehengas continue to be a staple for Navratri. However, this year's trend leans towards modern twists on these classic silhouettes. Look for cholis with unique necklines, asymmetric hemlines on lehengas, and fusion-inspired designs that blend traditional and contemporary elements.
Statement Blouses and Crop Tops
Elevate your Navratri ensemble with statement blouses and crop tops. These can add a touch of modernity to your traditional lehenga or chaniya choli. Opt for off-shoulder, ruffled, or embellished blouses that make you stand out on the dance floor.
Embroidery and Mirror Work
Incorporate intricate embroidery and mirror work into your Navratri outfits to give them a royal touch. These embellishments add a sense of opulence and elegance to your traditional attire.
Layered Jewelry
Navratri fashion in 2023 welcomes layered jewellery. Experiment with multi-layered necklaces, statement earrings, and chunky bracelets that complement your outfit. Mix and match traditional pieces with contemporary designs for a unique look.
Palazzo Pants and Shararas
For those who prefer comfort without compromising on style, palazzo pants and shararas are a fantastic choice. Pair them with a beautifully embroidered short kurti for a chic and comfortable Navratri ensemble.
Eco-friendly and Sustainable Fashion
Sustainable fashion is gaining popularity across the globe, and Navratri is no exception. Consider eco-friendly and sustainable outfits made from organic fabrics and natural dyes. Not only will you look good, but you'll also contribute to a greener planet.
Prints and Patterns
Experiment with prints and patterns on your Navratri outfits. From traditional bandhani and tie-dye to contemporary geometric and floral prints, you have a wide array of options to choose from. Mixing and matching different prints can create a stunning visual impact.
Intricate Footwear
Complete your Navratri look with intricately designed footwear. Consider embellished juttis, embroidered mojaris, or even high-heeled sandals that complement your outfit and add a touch of sophistication.
Hairstyles and Makeup
Don't forget to pay attention to your hairstyle and makeup. Experiment with braids, half-up hairstyles, and floral hair accessories. For makeup, opt for a dewy finish, bold eyeliner, and statement lips that enhance your festive look.
Conclusion
Navratri fashion trends for 2023 offer a delightful blend of tradition and contemporary flair. Whether you choose to go all out with traditional chaniya cholis or prefer a fusion look with palazzo pants and statement blouses, there's a style for everyone. Embrace the colours, patterns, and embellishments that resonate with your personal style, and dance your heart out during this enchanting festival. Navratri is not only about honouring the divine but also about celebrating your individuality through fashion. So, get ready to make a stylish statement while paying homage to the cultural richness of this auspicious celebration.