Navratri 2023: Celebrating Nine Days of Divine Devotion and Vibrant Colors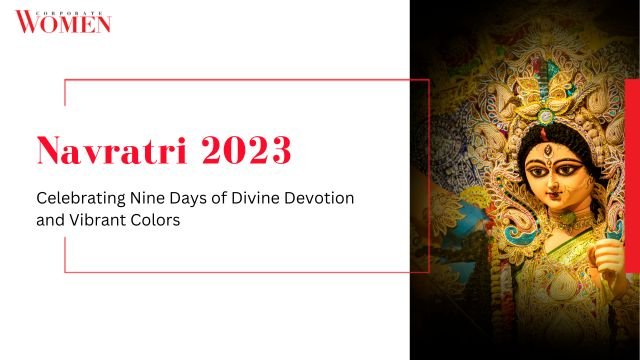 The much-awaited Shardiya Navratri 2023 is just around the corner, and devotees are gearing up for nine days of intense devotion and celebration in honour of Goddess Durga. Navratri is a significant Hindu festival that is observed twice a year, with the Shardiya Navratri falling in the month of Ashvin, typically in September or October. This year, the Shardiya Navratri 2023 dates are from 15th October to 23rd October.
Significance of Navratri
Navratri is a celebration of the divine feminine energy and is dedicated to Goddess Durga, who symbolises strength, courage, and protection. The festival's name is derived from two words: "Nav," meaning nine, and "Ratri," meaning night, signifying the nine nights of devotion and worship.
Navratri Celebrations
Each day of Navratri holds special significance, and devotees worship a different form of Goddess Durga on each day. In Gujarat, the festival is marked by the spirited Garba and Dandiya dances, while in other parts of the country, people observe it with fasting, prayers, and aarti ceremonies.
Shardiya Navratri Schedule 2023
Day 1: Goddess Shailputri – 15th October 2023
The inaugural day of Navratri is dedicated to Goddess Shailputri, and it is customary to adorn oneself in the vibrant hue of orange. Goddess Shailputri, one of the nine divine forms, is the daughter of Himalaya and represents the essence of the Trimurti, comprising Brahma, Vishnu, and Mahesh.
Day 2: Goddess Brahmacharini – 16th October 2023
On the second day of Navratri, devotees pay homage to Goddess Brahmacharini, and it is customary to don garments in the pure shade of white. Goddess Brahmacharini, adorned in a white saree, embodies the spirit of penance. She gracefully holds a rosary in one hand and a kamandal in the other. It is widely believed that those who offer their prayers to her will receive blessings of wisdom and knowledge.
Day 3: Goddess Chandraghanta – 17th October 2023
The third day of Navratri is dedicated to Goddess Chandraghanta, and it is customary to adorn oneself in the vibrant shade of red. Goddess Chandraghanta is the ruling deity of the planet Shukra (Venus), and on this auspicious day, devotees offer her yellow flowers as a mark of devotion. She is often depicted with a semi-circular moon adorning her forehead.
Day 4: Goddess Kushmanda – 18th October 2023
On the fourth day of Navratri, reverence is paid to Goddess Kushmanda. Dressing in blue Navratri attire and worshipping this deity during the festival is believed to bestow blessings for enhanced health, prosperity, and strength.
Day 5: Skand Mata – 19th October 2023
The fifth day of Navratri is dedicated to Skand Mata, the goddess of motherhood. It is tradition to dress in the bright hue of yellow on this day. In Hinduism, the yellow Navratri colour is associated with learning and knowledge, making it a fervently embraced colour during the Sharad Navratri 2023 festival.
Day 6: Goddess Katyayani – 20th October 2023
The sixth day of Navratri is dedicated to Goddess Katyayani, recognised as the sixth manifestation of Maa Durga. She is revered as the conqueror of evil forces, and on this day, devotees are encouraged to attire themselves in green. The colour green symbolises fresh beginnings, growth, and fertility.
Day 7: Maa Kaalratri – 21st October 2023
On the seventh day of Navratri, it is time to honour Maa Kaalratri, who stands as the seventh embodiment of the goddess Parvati and is hailed as the vanquisher of all malevolence in the world. While some individuals equate Kali and Kalaratri, it's important to note that this remains unconfirmed. On this day, wearing grey attire while offering prayers to the goddess is believed to cleanse one's life of negativity.
Day 8: Maa Maha Gauri – 22nd October 2023
On the eighth day of Navratri, devotees revere Maa Maha Gauri, an avatar of Durga, to seek liberation from life's afflictions. It is customary to adorn oneself in the regal shade of purple on this auspicious day. Purple is a splendid choice for attire on the eighth day, symbolising joy and optimism in life, and this day is celebrated with great enthusiasm as Ashtami.
Day 9: Maa Siddhidatri – 23rd October 2023
The ninth and final day of Navratri is Navmi, dedicated to the worship of Maa Siddhidatri. The term "Siddhi" signifies supernatural power, and "Dhatri" means the bestower. She grants individuals supernatural abilities and imparts spiritual prowess. Peacock Green is the chosen colour for the ninth day of Navratri, celebrating Goddess Siddhidatri. This colour symbolises the conclusion of Sharad Navratri 2023, embodying values of kindness, harmony, and affection.
Navratri Muhurat Timing 2023
The auspicious timing for Navratri is crucial for devotees who wish to perform rituals and prayers accurately. The Navratri Muhurat for 2023 is as follows:
Navratri Start Date: 15th October 2023
Navratri End Date: 23rd October 2023
Dussehra: 24th October 2023 (10th day)
Devotees often begin with the Kalash Sthapna, a ritual that takes place from 11:44 AM to 12:30 PM, based on the Hindu Panchang.
As Shardiya Navratri 2023 approaches, devotees eagerly prepare for this auspicious festival, marking it with sincere devotion, fasting, vibrant colours, and cultural celebrations. It is a time to seek the blessings of Goddess Durga and celebrate the victory of good over evil. May this Navratri bring joy, prosperity, and spiritual growth to all who celebrate it with faith and devotion.