10 Indian Web Series on Amazon Prime for Aspiring Entrepreneurs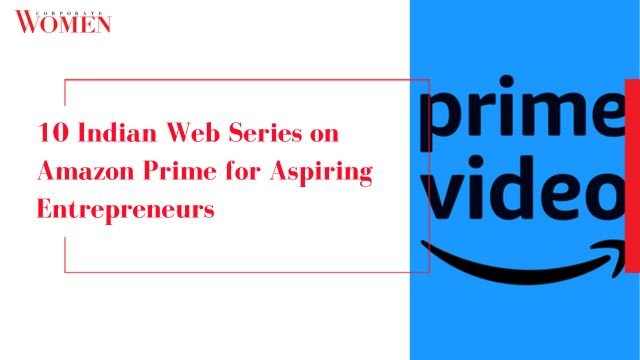 As we step into the year 2023, the world of entrepreneurship continues to captivate the minds of numerous individuals, especially the younger generation. The journey from conceiving a unique idea to founding a startup has evolved into a thrilling adventure.
However, this journey is not devoid of challenges. Entrepreneurs, often fueled by passion, might encounter exhaustion due to relentless work and a lack of rest. When expected outcomes don't materialise, hope can waver. This is precisely where a wellspring of inspiration and encouragement becomes invaluable. Today, an array of web series stands as a reservoir of motivation for young entrepreneurs, reigniting their enthusiasm, fortifying their resolve, and guiding them toward innovative paths.
To provide a rejuvenating boost and a renewed sense of purpose, we present the "Top 10 Indian Web Series on Amazon Prime," a must-watch list for entrepreneurs seeking motivation and priceless insights.
TVF Pitchers
"TVF Pitchers," a groundbreaking Indian television series since 2015, encapsulates the essence of entrepreneurship. The show follows four corporate employees who, disillusioned with their monotonous desk jobs, embark on a startup journey. This dramedy captures their transition from corporate life to the tumultuous startup world, portraying their challenges, investor dilemmas, and ego clashes. "TVF Pitchers" authentically portrays the roller-coaster ride that defines the life of a startup founder.
Upstarts
Released in 2019, "Upstarts" weaves a compelling tale of three college graduates navigating the road to success through a health tech startup. This Indian production delves into the evolution of their friendship amidst the highs and lows of entrepreneurship. The film resonates with the sacrifices, ambitions, and trials of turning startup dreams into reality. It serves as a reminder that the journey to success is paved with transformations and challenges, inspiring entrepreneurs to persevere.
How I Made My Millions
A CNBC original show, "How I Made My Millions," delves into the lives of ordinary individuals who transformed innovative ideas, hard work, and education into extraordinary success stories. Premiering in 2009, this series offers an intimate exploration of the biographies of business icons, shedding light on how they turned ordinary concepts into exceptional businesses. Entrepreneurs can glean invaluable insights from these real-life stories of overcoming odds to achieve greatness.
Silicon Valley
The American TV series "Silicon Valley," launched in 2014, is a guiding light for aspiring entrepreneurs. The show immerses viewers in the intense journey of nurturing a startup idea from inception to fruition. "Silicon Valley" intricately captures the risks and consequences of decisions in the startup realm, emphasising the delicate balance between success and failure.
Black Mirror
"Black Mirror," a British science-fiction series, presents thought-provoking narratives centred around the convergence of modern technology and human existence. This series prompts entrepreneurs to reflect on innovation's role in shaping our future by illustrating technological progress's potential benefits and alarming consequences. The show's speculative scenarios underscore the power and responsibility inherent in entrepreneurship.
The Profit
A riveting series, "The Profit," exposes the stark realities of entrepreneurship. Renowned businessman Marcus Lemonis invests in struggling companies, aiming to revitalise them for mutual success. The show imparts valuable lessons in people management, processes, and product development by showcasing entrepreneurs' triumphs and challenges. "The Profit" is a must-watch for those seeking a comprehensive understanding of the entrepreneurial journey.
StartUp
"StartUp," a 2016 US web series, enthrals audiences with its gripping narrative. The show chronicles the evolution of a tech startup, featuring a cast that includes Martin Freeman, Adam Brody, Edi Gathegi, and Addison Timlin. As the characters collaborate to establish a digital currency venture, the series navigates the intricacies of entrepreneurship, showcasing the transformative potency of determination and collaboration.
Shark Tank
The unscripted show "Shark Tank," launched in 2009 as the American version of "Dragons' Den," places investment-seeking entrepreneurs before a panel of seasoned investors. As these entrepreneurs pitch their business models and vie for funding, the show offers a dynamic view of negotiation, presentation skills, and business acumen. "Shark Tank" provides a compelling glimpse into the intersection of innovation and investment.
House of Cards
"House of Cards," an American political thriller that premiered in 2013, masterfully weaves a narrative of power, manipulation, and strategy. While not overtly focused on entrepreneurship, the show offers a compelling storyline that resonates with entrepreneurs' challenges in navigating intricate relationships, making strategic decisions, and realising their ambitions. The show's depiction of calculated moves and complicated alliances imparts valuable lessons to business leaders.
Girl in the City
A departure from the norm, "Girl in the City" presents an unconventional narrative of a young woman's pursuit of her dreams in the bustling city of Mumbai. Through twists and turns, the show underscores the significance of determination and resilience in overcoming challenges. As the protagonist's journey unfolds, the series empowers and inspires viewers to forge ahead with determination.
Conclusion
These 10 Indian web series on Amazon Prime offer a spectrum of insights, motivation, and inspiration for entrepreneurs navigating their transformative paths. Whether it's the highs and lows of startup life, the intricacies of negotiation and strategy, or the impact of technology on our existence, these series present a rich tapestry of experiences and lessons. So, these must-watch shows are your compass for entrepreneurial inspiration.