Tech Innovators: Women Driving Digital Transformation in Corporates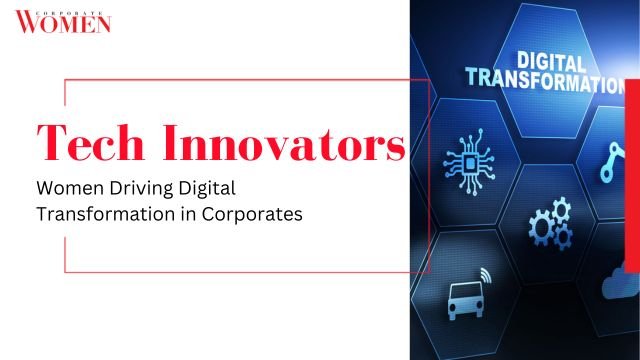 In the ever-evolving world of technology, women have emerged as trailblazers, propelling the corporate landscape towards digital transformation. India, with its vibrant and diverse workforce, boasts a growing number of women who have made significant strides in the tech industry, revolutionising the way corporates function. In this article, we will delve into the remarkable stories of tech innovators who are driving digital transformation in Indian corporates, inspiring change and paving the way for a brighter future.
Embracing Digital Disruption
Digital transformation is more than just a buzzword; it is the key to survival and success in the modern corporate arena. Visionary women leaders are at the forefront of this disruption, advocating for the integration of cutting-edge technologies in various industries. Their bold initiatives have led corporates to adapt and leverage the power of artificial intelligence, cloud computing, big data, and the Internet of Things (IoT), among others.
Fostering Innovation and Inclusivity
The tech innovators we celebrate today have broken barriers and shattered stereotypes, creating a more inclusive and diverse workplace. Their relentless pursuit of innovation is not only redefining corporate culture but also encouraging more women to pursue careers in STEM (Science, Technology, Engineering, and Mathematics) fields. By fostering a nurturing environment, these women have been instrumental in nurturing the next generation of female tech leaders.
Navigating Challenges and Triumphs
The journey to success is often riddled with challenges, and these extraordinary women are no strangers to them. From gender bias to unequal opportunities, they have faced it all. However, their unwavering determination and resilience have enabled them to overcome these obstacles and make their mark in a male-dominated industry. Their triumphs serve as beacons of hope, inspiring women across India to pursue their passions fearlessly.
Revolutionising Corporate Processes
Digital transformation goes beyond adopting new technologies; it also involves reimagining traditional processes. Women tech innovators are leveraging automation and data analytics to streamline operations, enhance efficiency, and drive sustainable growth. By embracing agile methodologies, they are creating corporate ecosystems that are adaptable, responsive, and forward-thinking.
Inspiring Collaborative Change
Collaboration is at the heart of the digital revolution. These tech innovators understand the importance of forging partnerships, both within and outside their organisations. By collaborating with startups, research institutions, and tech giants, they are harnessing collective knowledge and expertise to bring about transformative change in their respective industries.
Realising the Potential of AI and Machine Learning
Artificial Intelligence and Machine Learning are catalysts for innovation, and women tech leaders are at the helm of exploring their vast potential. From predictive analytics to personalised customer experiences, AI is reshaping the corporate landscape. These visionaries are driving the adoption of AI-driven solutions, unlocking new opportunities for growth and efficiency.
Creating a Sustainable Future
Digital transformation is not solely about economic gains; it also plays a vital role in building a sustainable future. Women tech innovators are at the forefront of using technology to address environmental challenges and promote sustainable practices in the corporate world. From eco-friendly supply chains to green data centres, they are spearheading initiatives that prioritise the well-being of our planet.
Conclusion
In conclusion, the digital transformation journey of Indian corporates owes a great deal to the women tech innovators who have fearlessly led the charge. Their visionary leadership, resilience in the face of challenges, and commitment to inclusivity have not only revolutionised corporate India but also inspired a new generation of trailblazers. As we celebrate their successes, we recognise that their impact extends far beyond the tech industry, empowering women and driving positive change across society.