India's YouTube Titans: The Richest Creators Shaping Digital Success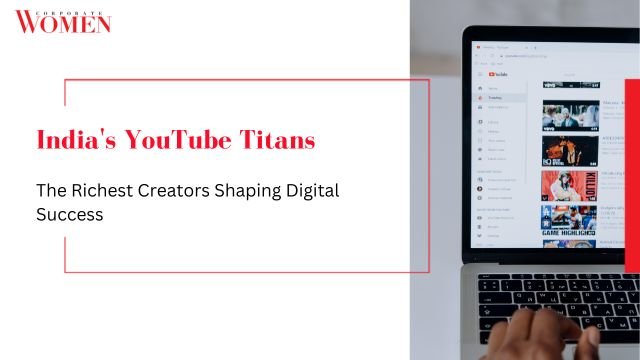 The remarkable ascent of YouTube as India's premier video streaming platform has been astonishing. With its user-friendly interface and a vast array of free content, YouTube has swiftly solidified its position as the preferred choice for the Indian audience. Beyond being a mere source of entertainment and information, YouTube has evolved into a thriving epicentre for content creation, providing avenues for employment and pathways to fame. This blog takes an in-depth plunge into the realm of India's most financially successful YouTubers, shedding light on individuals who have harnessed the platform's potential to achieve both financial prosperity and celebrity status.
Ajay Nagar – The Meteoric Ascent of Carryminati
Ajay Nagar, renowned as Carryminati, stands as a living testament to the transformative power of YouTube. Embarking on his journey at the tender age of 10 in 2014, Nagar's trajectory has been awe-inspiring. Boasting an impressive subscriber base of 36.9 million, his net worth has surged to a staggering $4 million. A trailblazer in the roasting genre, his sharp and engaging content has garnered a massive following. While his initial prominence revolved around roasting, his foray into gaming-related content on his secondary channel, "CarryisLive," has further elevated his popularity.
Bhuvan Bam – The Phenomenon Behind BB Ki Vines
Bhuvan Bam, an actor, performer, and author, has single-handedly redefined the notion of YouTube success. With his channel "BB Ki Vines" amassing a staggering 25.6 million subscribers, he boasts a net worth of $4 million. Transitioning from Indian music covers to becoming a comedic sensation; Bam captivates audiences with his witty skits. His journey from Delhi to YouTube stardom firmly secures him among India's top 10 wealthiest YouTubers.
Ashish Chanchlani – The Triumph of Ashish Chanchlani Vines
Ashish Chanchlani has etched an indelible mark and is renowned for his collaborations with Kunal Chhabria, Akash Dodeja, and Simran Dhanwani. With a substantial subscriber base of 28.8 million, his net worth soars to an impressive $5 million. His impeccable comedic timing and ability to craft relatable content have led to over 4 billion views on his videos, firmly establishing his position among India's richest YouTubers.
Amit Bhadana – The Comedy Visionary
Amit Bhadana has left an indelible mark with his exceptional comedic content. Boasting 24.1 million subscribers, his net worth reaches an impressive $5.4 million. Renowned for his acting prowess and quirky narratives, Bhadana's multifaceted talents extend to singing and composing official music, setting him apart in India's YouTube landscape.
Gaurav Chaudhary – The Tech Guru Behind Technical Guruji
Gaurav Chaudhary, the brilliant mind steering "Technical Guruji," is a household name among tech enthusiasts. With an impressive subscriber count of 22.5 million, Chaudhary's net worth stands at a staggering $45 million. He has expanded his empire beyond YouTube by sharing technical insights through reviews and unboxing videos, establishing ventures in Dubai and securing lucrative sponsorships.
Sandeep Maheshwari – Inspiring Beyond YouTube
Sandeep Maheshwari's influence transcends the boundaries of YouTube, inspiring individuals on transformative journeys. With a subscriber count of 25.3 million, his net worth reaches an impressive $3.5 million. Maheshwari's motivational videos and ownership of ImagesBazaar, a vast Indian image repository, firmly solidify his status as one of India's highest-earning YouTubers.
Nisha Madhulika – The Culinary Maven's YouTube Triumph
Nisha Madhulika has conquered the culinary domain of YouTube with her culinary prowess. With her channel amassing a remarkable 13 million subscribers, her net worth soars to an astonishing $5.56 million. As an Indian chef and YouTube creator, Madhulika's culinary content has garnered widespread acclaim.
Emiway Bantai – The Artistic Luminary
Emiway Bantai, excelling in vocals, rap, performance, and video creation, is a prominent figure in India's YouTube landscape. With a subscriber base of 18.2 million, his net worth reaches an impressive $5 million. His fame, particularly following his work on the song "Asli Hip Hop" for the movie "Gully Boy," exemplifies the diverse opportunities YouTube offers.
Dr. Vivek Bindra – Transforming Entrepreneurship
Dr. Vivek Bindra has revolutionised entrepreneurship through leadership and business coaching. Boasting 19.9 million subscribers, his net worth scales to an impressive $6.5 million. Beyond YouTube, Bindra's courses and app revolutionise learning and leadership development.
Dhruv Rathee – Illuminating Perspectives on YouTube
Dhruv Rathee, an Indian YouTuber based in Germany, sheds light on political, economic, and historical topics. With a subscriber base of 8.81 million, his net worth surpasses $4 million. Rathee's authenticity and informative content deeply resonate with his audience.
Conclusion
In the dynamic realm of YouTube, these individuals have transformed their passions into thriving enterprises, accumulating wealth and fame. With their unique and captivating content, these top 10 richest YouTubers in India have garnered immense popularity, reshaping the concept of celebrity in the digital age. Their journey inspires aspiring content creators, underscoring the limitless opportunities platforms like YouTube offer.