Exploring India's Top 10 Esteemed Fashion Brands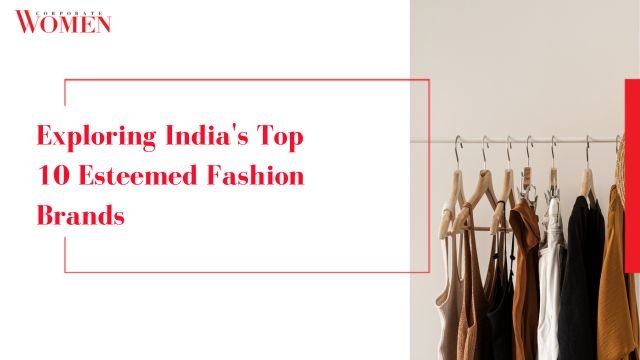 Amidst the growing fashion consciousness in India, a wave of indigenous fashion brands has risen to prominence, bravely challenging international giants. These homegrown fashion houses not only cater to a diverse range of tastes but also profoundly resonate with the style preferences of Indian consumers. This comprehensive article sheds light on ten renowned fashion brands seamlessly integrated into households, shaping trends and exerting substantial influence over India's dynamic fashion landscape.
Peter England: Elevating Men's Wear
With a mission to provide high-quality menswear, Peter England has seamlessly ingrained itself as a staple in Indian households. As a subsidiary of Madura Fashion, the brand offers an extensive range of formal attire and everyday wear for men. From casual shirts, trousers, and jeans to t-shirts, polos, and innerwear, Peter England comprehensively caters to the modern man's wardrobe essentials.
Park Avenue: Global Style Sensation
Beyond India's borders, Park Avenue has left an indelible mark on the global fashion stage. Renowned for its innovative and stylish solutions for men's wardrobes, this premium lifestyle label encapsulates the latest international fabrics, styles, colours, and fashion trends. Its commitment to innovation was underscored by winning the Best Design Concept of the Year Award for the Innovative AUTOFIT Concept at the Images Fashion Awards in 2015.
Monte Carlo: Comfortable, Chic
Synonymous with warm and cotton apparel for men, women, and children, Monte Carlo is a symbol of proper, trendy, and high-quality clothing. The brand offers diverse products, from shirts and sweaters to coats and sweatshirts. Monte Carlo's unwavering focus on comfort and style has significantly contributed to its enduring consumer popularity.
Allen Solly: Versatile and Vibrant
Emerging from Madura Fashion & Lifestyle, Allen Solly has found its home within the Aditya Birla Fashion and Lifestyle division. As one of India's leading and rapidly expanding branded apparel companies, Allen Solly caters to diverse customer preferences, encompassing affordable and mass-market styles and high-end luxury designs. Allen Solly's product lines span age groups, offering fashion choices for children, teenagers, men, and women.
Louis Philippe: Distinctive Elegance
Paying homage to the historical French monarch, Louis Philippe has carved a unique niche in the premium men's clothing segment. Under the patronage of the Aditya Birla Group, the brand offers an extensive range of men's attire and also delves into shoes, watches, and wallets. Synonymous with precision in craftsmanship, Louis Philippe's clothing collection seamlessly blends classic and contemporary styles.
Pepe Jeans: Denim Pioneers
Originating from London's Portobello Road Market, Pepe Jeans established its Indian presence in 1980, becoming the country's first indigenous denim brand. Focusing on comfortable and trendy jeans, Pepe Jeans swiftly gained favour among the youth. Its offerings extend beyond denim, encompassing jackets, sweaters, formal and casual shirts, trousers, and accessories.
Lakme: Beauty and Beyond
As a cornerstone of India's esteemed cosmetic brands, Lakme has played a pivotal role in shaping the beauty and grooming industry since 1952. Acquired by Hindustan Unilever, Lakme consistently evolves to cater to the changing preferences of Indian consumers. Celebrated for its diverse range of beauty products, Lakme's impact goes beyond beauty offerings, significantly influencing India's fashion landscape.
Pantaloons: Setting Style Statements
Formerly under the Future Group and now under the Aditya Birla Group, Pantaloons has become synonymous with setting style trends across diverse clothing categories. The brand offers a versatile selection, catering to traditional Indian and contemporary Western attire. Pantaloons' offerings resonate with a broad spectrum of consumers seeking fashion choices that reflect their individuality.
Raymond: Epitome of Elegance
Raymond's decades-long legacy epitomises quality and sophistication in men's formal wear. Acknowledged as the world's largest integrated manufacturer of worsted fabric, Raymond boasts a distribution network comprising multi-brand outlets and exclusive retail stores across India. Beyond suits and formal attire, Raymond exports its products to over 55 countries, cementing its status as an international fashion player.
Biba: Fusion of Tradition and Contemporary
Celebrated for its ethnic wear collection, Biba has become a household name for those seeking traditional Indian outfits with a contemporary twist. Founded by Meena Bindra in 1988, Biba's stunning array of salwar kameez, Kurtis, and lehengas seamlessly blend ethnic and Western styles. With a nationwide presence, Biba's popularity speaks to its ability to cater to India's diverse fashion preferences.
Conclusion
India's fashion landscape is a vibrant fusion of rich heritage and modern trends. These iconic Indian fashion brands have not only shaped Indians' perception of and engagement with fashion but have also left an indelible mark on the global stage. Through diverse offerings, innovative designs, and a commitment to quality, these brands continue to inspire individuals to embrace fashion as an expression of their unique identities. As the Indian fashion scene evolves, these brands remain torchbearers of creativity and excellence, further solidifying India's status as a fashion powerhouse.